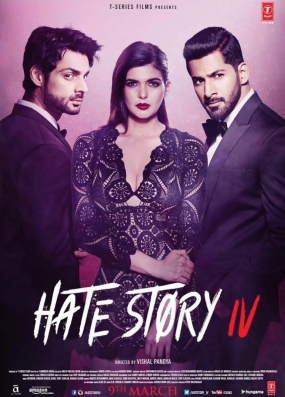 Tanishk Bagchi certainly is a music composer on the rise. Having been introduced in Tanu Weds Manu Returns with the song 'Banno', he's gone on to compose many more songs. In fact, he has been responsible for some very touching folk rhythms and a lot of remakes that is now part and parcel of Bollywood culture. He does seem an odd choice for Hate Story IV, which on the outside is both a sequel that isn't a sequel and from its premise that is looking more towards the raunchy than the traditional. On the OST, he is ably given a hand by Arko Mukherjee, Mithoon and other guest directors, each bringing unique talents to make for a rounded and complete soundtrack. There are eight songs in total here, which has not been the recent trend, so a lot of emphasis has been given to the musical sound to add to the film.
The first song is Aashiq Banaya Aapne. The title is not a new one having been used in several different projects over the years. However, this remake takes its inspiration from the title song of the film of the same name, Aashiq Banaya Aapne staring Emraan Hashmi and Tanushree Dutta. For the time, 2005, this was a raunchy song and its video showed plenty of lust and amore. Himesh Reshammiya and Shreya Ghosal provided an adequate soundtrack to some steamy scenes. In modernising this song, Taniskh has kept a flash from Himesh singing in the background but otherwise has let Neha Kakkar take centre stage to take this to a new level. The new version is a definite club song but with a distinctive Arabic flavour and some faint tabla give it an exotic sound. This allows for the actress to turn it into a cabaret number like the brilliant star of yesteryear Helen from classic Hindi movies.
In Boond Boond, along with Jubin Nautiyal, Neeti Mohan takes on an interesting Spanish style spritely beat. This song, composed by Arko, seems to contrast with what audiences see on the screen but still has an acoustic guitar and easy feel, with an African drum employed to give beat. Since, like in all Spanish classical music, the acoustic guitar takes rhythm and melody support to the singers, the song overall sits back and allows cinemagoers to concentrate on the visuals.
Neeti Mohan is on her own in Naam Hai Mera in the song recreated by Tanishk Bagchi. This is a complete contrast to 'Boond Boond' and shows off her range to handle whatever style is handed to her. The song is vibrant and the lyrics tell us that the men are all after her. Neeti's singing of the song allows for a sense of arrogance evident on screen. This is a dance song and since its loud and short, it will surely be a hit on the club scene.
Contrasting in every way to these songs is Tum Mere Ho composed by Mithoon. A classic Bollywood soft love song, this is sung by Jubin Nautiyal and Amrita Singh in a jazz style. This song has everything audiences expect from a Bollywood love song except for Arijit Singh but the singers are capable. The lyrics and the background tune itself are simple, held together by electric guitar and drums for those special moments. Again, as with the previous songs, this song disappears into the background allowing the on-screen to be the main attraction point. But this song does stand up on its own and so could be a part of someone's personal playlist.
The last 4 songs of the film are mirrors of each other.
Badnaamiyan, with music by Baman-Chand, is an intimate song which is initially sung by Armaan Malik but is also given a female insight by Sukriti Kakkar. It's about taking love to the next step in both versions. As a pair of songs, it is like love itself: two obsessions joining as one. Armaan Malik is asked to sing the role of the male lead as he exposes his heart to his love. Heavy beats combined between tabla and electric bass guitar make for a rock-solid grounding. On top of this is a soft electric guitar giving a feel of old time Italian songs. Armaan is given thus full reign over the song and while passionate fails to deliver the emotion of the scene fully. Sukriti on the other hand is given a fresh feeling song. Clicking fingers, acoustic guitar and piano are evenly used to keep it all very light and flowing. However, the singer's struggles are just as obvious here with the heavy use of echo and reverb to sustain the long runs required in the song.
Mohabbat Nasha Hai, composed by Tony Kakkar, starts out as a sweet duet between Tony and Neha Kakkar then with a sad riposte by Tony only as the film takes a turn. Mohabbat Nasha Hai (duet) may just turn out to be the song of this film once the club crowd has moved on. Beautifully scripted between Tony and Neha Kakkar, backed up by flute and acoustic guitar the feel is happy like the blossoming of new love. The lyrics are smooth and even though Tony's voice is very light, it all seems to fit well. However, for the individual part 2 of this song, Tony's lack of voice shows very poorly. In trying to sound like Arijit, he fails to hold the song where a singer's class must show through and even reverb is not enough to hide the flaws here. This was a song for Arijit but never got there.
Hate Story IV aims to be a musical spectacular to back up an engaging story mixed with a lot of love, obsessions and steamy scenes. Even though the eight songs have come from several different music directors and been sung by a variety of artists, some who are very new to Bollywood, the album overall comes together well to support the on-screen. However, it is difficult to see these songs doing well on their own within people's playlists going forward as most of them feel very forgettable.
Hate Story IV is in theaters now.