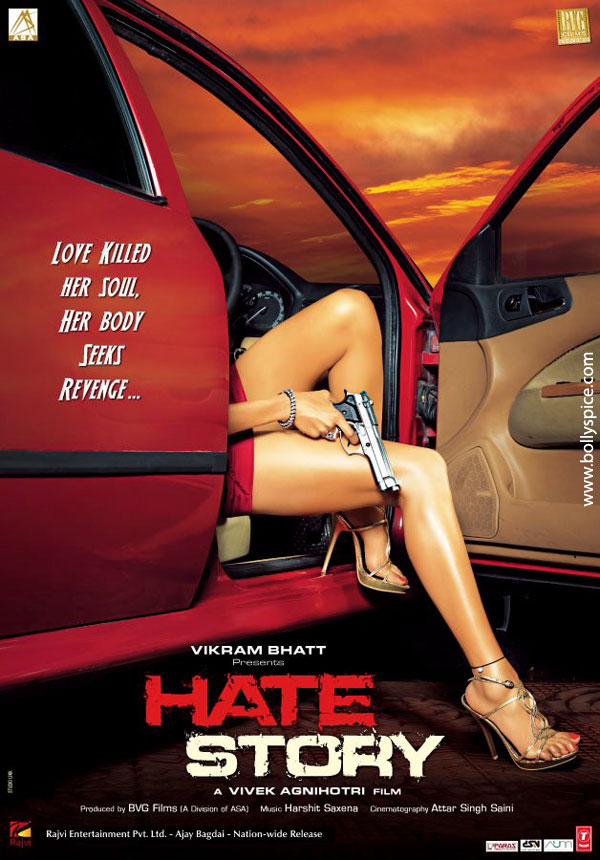 Even before the movie hit the theatres, Vikram Bhatt's Hate Story had created a lot of hubbub in the social media with blatant sexuality in its promotional videos and trailers. Apparently, the distribution rights were picked up almost instantly, following the impact that the promotion created. Producer Vikram Bhatt, with the PR agency of the film has seemingly done everything to tag his latest flick as an erotic thriller with titillating bare back posters and trailers which contained the movie's most raunchy scenes. Albeit the fact that the movie has a lot of love making scenes, it fails to live up to the hype it created during its promotions. For all those people who are wondering if this movie can be one of their morning show options NO is the answer.
Directed by Vivek Agnihotri, Hate Story is a chronicle of abhors and vengeance where the protagonist seeks revenge and uses her sexuality as a lethal weapon to settle her scores with the one man, who brutally scarred both her personal and professional lives. The story revolves around the transition of Kaavya Krishna (Paoli Dam) from being a journalist to a sex worker. Set in the city of Delhi, the movie starts with a young journalist, Kaavya who tag teams with her friend cum photographer Vicky (Nikhil Dwivedi) to conduct a sting operation, exposes a multi-crore scam involving the CEO of a cement manufacturing giant and a judge. This bust strikes the company head Siddharth Dhanrajgir 'Sid' (Gulshan Devaiya) like a lightning and his father Kumar Dhanrajgir (Saurabh Dubey). Kumar Dhanrajgir, who is a ruthless businessman, gives his son 12 hours to fix things. The ever vindictive and egomaniac Siddharth, seeks vengeance against Kaavya for this defamation and lures her into a lucrative job offer with perks like a flat and a chauffeur driver car. Kaavya falls for it and gets over excited with this pleasant turn of events and accepts the offer. Sky is the limit for Kaavya Krishna, who also helps Siddharth bag a big cement contract. Siddharth, as a token of appreciation, presents her a ring and an expensive watch. To celebrate their contract win, Siddharth takes Kaavya out for a dinner and eventually to bed.
The following day, Kaavya finds herself fired from the company and realizes that it was Siddharth's plan all the way along as a payback to the sting operation she conducted. To add insult to the injury, when Kaavya informs Siddharth that she is pregnant and is carrying his child, Siddharth has Kaavya kidnapped and gets her abortion done forcefully and makes sure that she would never be able to conceive again in her life. Kaavya's family relocates to a different city to escape this trauma and Kaavya is ostracized by everyone except her friend Vicky who secretly loves her.
It is now Kaavya's turn to seek revenge and for some reason, she finds that the only way to hit back Siddharth is through the oldest profession of the world – Prostitution. Kaavya lands up at one of the brothels and meets Delhi's most famous whore and demands seduction classes from her. Kaavya goes on to become the most famous whore of Delhi and beds every man who she thinks can help her in destroying Siddharth's company and life 'brick by brick' as coins the phrase. She does become successful in her plot by finding out secrets about Siddharth's company by sleeping with the company's CEO (Joy Sengupta). She then plays a double game ensuring that Siddharth's company wins a deal that will entail losses to the company and also finds her way into the company's board – courtesy the chief minister (Mohan Kapoor) with whom she barters her body for the post of directorship in a public sector bank.
Kumar Dhanrajgir asks his son, Siddharth to clean up the mess or lose control of the company to his brother. What follows in the movie is the cat and mouse game between Siddharth and Kaavya. Who will have the last laugh? Can Kaavya expose the fraudster Siddharth and get her revenge? Will Kaavya, who has compromised on her moral grounds ever be able to lead a normal life? These are the questions that the movie answers in the second half.
Movies made with such audacity are bound to have severe reactions and get involved in controversies. While the vengeance aspect of the movie keeps the viewers to their seats till the end, the way Kaavya puts her plan into execution is very unrealistic and unconvincing. All the men from the upper echelons of society, be it the politician or the CEO in Siddharth's company, are all shown to fall prey to Kaavya's seduction a bit too easily. At times, it is not even a few seconds before the men are ready to make out with her in the rains or Jacuzzis and bath tubs filled with rose petals, which goes a bit too overboard. A question that every viewer would ask at the end of the movie is the reason why Kaavya resorted to only sexuality when she could have used other skills to investigate and expose the scams that Siddharth was involved in.
Certain dialogues in the movie like 'Shake it, Take it and then Fake it' a golden rule as quoted by the cleavage popping top notch whore of Delhi, Bhairavi, with the liberal usage of the four letter word make the overall dialogues in the movie less impactful. There is a time in the movie when the phrase 'I f*** those who f*** with me', re-iterated by Kaavya and Siddharth gets on to your nerves.
Sadly, due to a weak script, the film has turned out to be an ordinary vengeance story. Whilst the PR agency of the movie would have wanted to have this one tagged as an erotica of 2012, all Hate Story has in store as a part of its sex quotient is a lot of moaning, groaning, grunting, puffing and sighing. Having said that, I would want to give due credit to Vivek Agnihotri, who except for a couple of intervals has managed to keep the pace well throughout the movie, which is crucial for any thriller flick. Amar Mohile's background score is commendable and the song 'Dil kaanch sa todeyaan' does stay lingering into the viewer's mind when they leave the cinema hall.  Harshit Saxena's music composition and Kumaar's lyrics are decent. Attar Singh Saini's cinematography is good, while editing is Satyajeet Gazmer is crisp.
Cast in a complicated character, Paoli Dam does a confident and a bold debut in Bollywood with Hate Story. Nikhil Dwivedi has very little to offer in the script and is perhaps the only decent man in the entire movie. Mohan Kapoor and Joy Sengupta are ordinary in their roles. Gulshan Devaiya does create an impression with his role as Siddharth who stammers in front of his father. Iravati Harshe does ok in her cameo and the others offer ordinary support. A weak script and an overall weak acting in the movie is what have stopped the movie from creating an erotic impact.