Be it in Mumbai, Berlin, London, New York, or any point in between, the one name that leaps to mind when the films of Bollywood are being discussed is Shah Rukh Khan, one of the best-known and highly respected actors in the industry. He has that magic "it factor" and whether the headliner in a movie, a guest star, or when making a personal appearance he lights up the screen and you can't take your eyes off of him. For the last 20 years, he has thrilled audiences with fabulous performances such as Raj in Dilwale Dulhania Le Jayenge, Kabir Khan in Chak De India, or as this year's sci-fi superhero, Ra.One, plus many more. He plays the good guy so well that we fall in love with him, we also find ourselves being drawn to him even when he is the villain. Remember falling for Don, in 2006's super hit film Don: The Chase Begins Again? With Don 2, which is set to release on December 21st, the actor steps back into those bad boy shoes. Don is the epitome of cool, and audiences cannot wait to see Shah Rukh Kahn bring a "leaner, meaner, sexier and smarter Don" to life in the sequel. I was granted the amazing opportunity of speaking with Mr. Khan on the phone last week and we had a quick, fabulous and fun conversation about playing the bad guy, doing stunts and what his fans mean to him! Read on to see what THE Shah Rukh Khan Says.
What convinced you to do the sequel to the film?
With the first film, the whole ideology was that we were taking a risk and a step forward in that we'll make the bad guy win at the end of the film – not the good guy as usually is the case. That was really accepted, but we didn't think we'd make another film out of it. If you don't have a nice story to tell there is no fun in making a film. Two-three years ago Farhan called up and said, 'You know what? I've got another script and I think we can make it into another Don film and really have fun taking the bad guy forward.' That's very exciting. You know, there is this darker element that all of us have. Somewhere down the line we subdue it because of the way we live our life but it has always existed. It's really nice to see a story line from the side of evil. Having done so many from the side of good, that's exciting, you know. Don is stylish. He is cool. He's someone we would all like to be, but we can't be because it's not nice to be Don. But there's no harm in doing it, there's no harm in seeing it.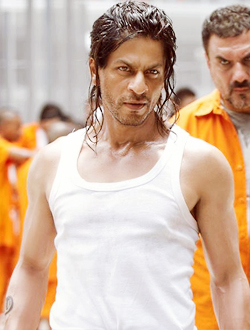 How was it to step back into the character of Don and play him again?
We had more freedom now, you know, because it was kind of written in a free form – something not locked or having the binding of it being a remake. I think Farhan was very clear that what he'd like to do is take forward the one-liners and we are going to make him, as I keep saying, leaner, meaner, smarter, sexier. He's a guy who is not in any which way good. I don't think we had a goal of him having any redeeming factor. It's like the Silence of the Lambs character, where you know he's a merciless killer, but you are mesmerized by the sensuality that surrounds him. Don's got all the trappings of being the epitome of what we think is of macho – fast girls, faster cars, and just being cool, drinking, beating up people… just the childhood fantasy of any guy. (Laughs) You know, just to relive it was quite cool, for Farhan and me actually.
This one has much more action and for one stunt you jumped off a building in Berlin…
Yeah, they make me do stuff – I work hard for my dinner, which I'm not cut out for sometimes. (Laughs) Yes, they made me jump from a high building, which was 400 feet or something. That was scary for sure. I mean it's safe because it's all tied up and people show me how to do it before that, but still just to take that leap! Actually you know I have done lots of these. I have jumped off a 16-story building. I have done one with 45 feet without a wire. But, you know, every time you have to take that jump it's like, 'Why the hell am I doing this? I don't need to do this.' But then I kind of feel that the audience has made me believe in the last 20 years that I can fly and I kind of trust that. If the audience thinks I can fly, then I can fly, so I'll take the chance.
The action is also very fast. It's based on a few techniques, which is close unarmed combat. The good thing about it or the interesting part is it's not cranked up in the camera; we are doing it live at that speed. We have to train a lot on the sets. You know, because it's live at that speed, sometimes it can give you bruises on your arms and legs. So you go back limping, but you feel very cool. It's the price you pay for doing an action film. When it comes across on the screen, it looks very cool and nice so you feel very proud, that yeah, you've been able to do this. We as actors get to experience these things that lot of people don't even get to see. It's quite a blessing, actually.
The music for the film is really cool and different. Do you have a favorite track?
Yes, there is one song, which is in the background, which is part of preparing for a caper in the film, which is called 'Hai Yeh Maya'. I really like that song. I think it's very nice, sung by Usha Uthup. And we have a new version of 'Main Hoon Don'. It's not in the film but we made a video out of it. It might be on the net right now, on the trailers. It's picturized differently, where you are doing action and singing; it's not like dancing because Don doesn't dance. He is too cool to dance. I like that song a lot. There's another song that I like, that I think is not in the film, but it's in the rolling credits, with Priyanka, which is 'Dushman Mera'. Again it's a very different number where it kind of shows the relationship they share, the love-hate relationship that is very intense in the film. Each one wants to kill the other, but they still seem to like each other.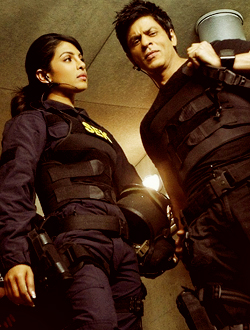 The way Farhan has done the album is unlike it is normally done in Hindi films. They are more based on the emotion and the internal aspect of the song instead of standing and dancing. I like that aspect of it. It's a different kind of music. I don't know if anyone can make out that it is an album of the same genre of music like how you have on a single artist's album…not a film soundtrack. That's what makes it different. Like in Hindi song albums normally you have a ballad, you'll have a rock song, you'll have a fun song, you'll have a comedy number and a sad song or a Sufi number. With this one it is like a regular musical album that a singer would put out. That's an interesting aspect.
What does your fans support mean to you?
It means everything to me. From the outside when people see me mostly on screen or giving an interview on television perhaps I don't come across as grateful as I feel about the fact that whoever I am, whatever my children are, whatever my family is, whatever my wife is, whatever I stand for for the last 20 years, I am very clearly dependent and I am very clearly given that to me by people who love me so much. I go to Germany and there are hundreds of people. Today I was supposed to go to Patna and there are lakhs of people standing on the road. I go to London, there are people there. At Jumarakhesh we had like a lakh and half people in the square. It's very heartening. I don't take the onus of all this upon myself. I don't think it's because of me. It's because I have been doing films. I happen to be in the films and I am extremely, eternally grateful for making this life happen to me. My life's only ambition is to meet each one of them and give them a hug if I can possibly do that in this lifetime.
I am sure I am joined by all your fans when I say that we can't wait to see Don 2! It hits theaters in the UK on the 21st and the rest of the world on December 23rd!