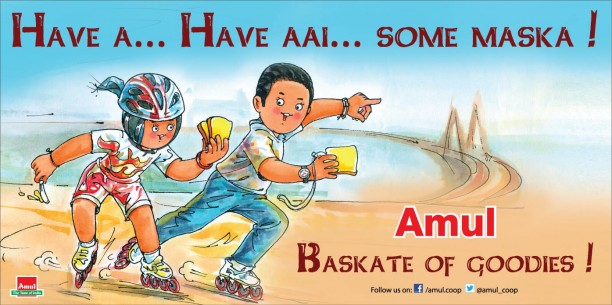 India's first in-line skating movie Hawaa Hawaai is now featured on the new hoarding of Amul titled Baskate of Goodies. This hoarding is a testimony to the grand success of the film amongst the audiences.
The hoarding features the popular Amul girl and her friend as they imitate the characters played by Partho and Saqib from the movie. The Amul girl is shown vibrantly dressed in skating attire, holding slices of buttered bread and skating along the road. This hoarding is very attractive and is sure to grab the consumers glance at once. It has the following phrase "HAVE A….HAVE AAI….SOME MASKA" splashed across the top.
The inspirational movie Hawaa Hawaai has already conquered many hearts and has found critical and audience acclaim since its release. The movie has been receiving a constant flow of positive reviews and director Amole Gupte along with actors Partho Gupte and Saqib Saleem have also been appreciated for their excellent work.
Hawaa Hawaai is a story of the triumph of the human spirit; friendship and enjoying the journey of making one's dream come true.
Arjun moves to the big city along with his mother and little sister. Out there he discovers a hidden world of in-line skating through coach Lucky, who mentors kids to become skating champions. While Arjun starts nursing the dream to learn skating under Lucky, his four friends get together to make this dream come true for him. In this endearing story of hope and aspirations, will Arjun's dreams take flight? The film stars Partho Gupte and Saqib Saleem. Presented by Fox Star Studios and written, produced and directed by Amole Gupte.