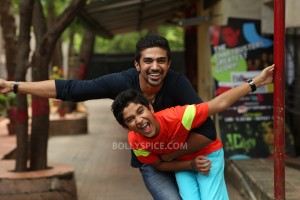 World's first film on in-line skating, upcoming Bollywood movie Hawaa Hawaai' directed by Amole Gupte has been receiving tremendous response with its pre-release screenings. Celebrities and various renowned personalities have been batting for the upcoming film which is all set to inspire everyone to fulfil their dreams.
Some incredible reviews have been lining up, marking the path of success for Hawaa Hawaai'. Karan Johar tweeted, "Hawaa Hawaai is moving, motivating and magnificent….brilliantly performed and directed…makes you clap..cry and cheer…big Bravo to all".
Talented actor Rajkummar Rao, appreciated the movie saying, "#Hawaa Hawaai such an honest and moving film. Saqib Saleem and Partho & the kids are marvellous in the film."
The exclusive trailer from the movie has already touched the hearts of audiences and has definitely raised their expectations.
Aniruddha Guha, Film and Assistant Editor at Time Out tweeted, "It's stunning, the performances Amole Gupte draws out from kids. Partho, his friends, and the adults including Saqib. Well-acted, overall." Not just members from the film fraternity, but even others have had kind words for the film. Reputed Fashion Photographer Dabboo Ratnani, who loved the film, tweeted "#HawaaHawaai is Brilliant! So Inspirational! Superb Performances by Partho & His 4 Adorable Friends. Thnx Amol Gupte 4 This Wonderful Cinema."
Popular director and writer, Tarun Mansukhani could not stop raving about the film. He wrote, "Just watched Hawaa Hawaai! One of the most heart warming films. @Saqibsaleem gives another amazing performance. So proud of him! No other director can make kids perform so amazingly. Hats off again to director Amole Gupte. Please watch this film. It's truly all heart!N above all Partho n his motley crew. These kids give our finest actors a run for their money!! Watch Hawa Hawai 4 them!!
Vivek Vaswani, writer, director and producer tweeted, "Take a bow Makarand Deshpande Neha Joshi Pragya Yadav Divya Jagdale Anuj Sachdeva! And the outstanding kids! #HawaHawaii ." Director Punit Malhotra also tweeted, "Full marks to the entire team of Hawaa Hawaai for making a beautiful film."
Hawaa Hawaai' is a story of the triumph of the human spirit; friendship and enjoying the journey of making one's dream come true.
Arjun moves to the big city along with his mother and little sister. Out there he discovers a hidden world of in-line skating through coach Lucky, who mentors kids to become skating champions. While Arjun starts nursing the dream to learn skating under Lucky, his four friends get together to make this dream come true for him. In this endearing story of hope and aspirations, will Arjun's dreams take flight? The film stars Partho Gupte and Saqib Saleem. Presented by Fox Star Studios and written, produced and directed by Amole Gupte, the film is slated to release on 9th May, 2014.