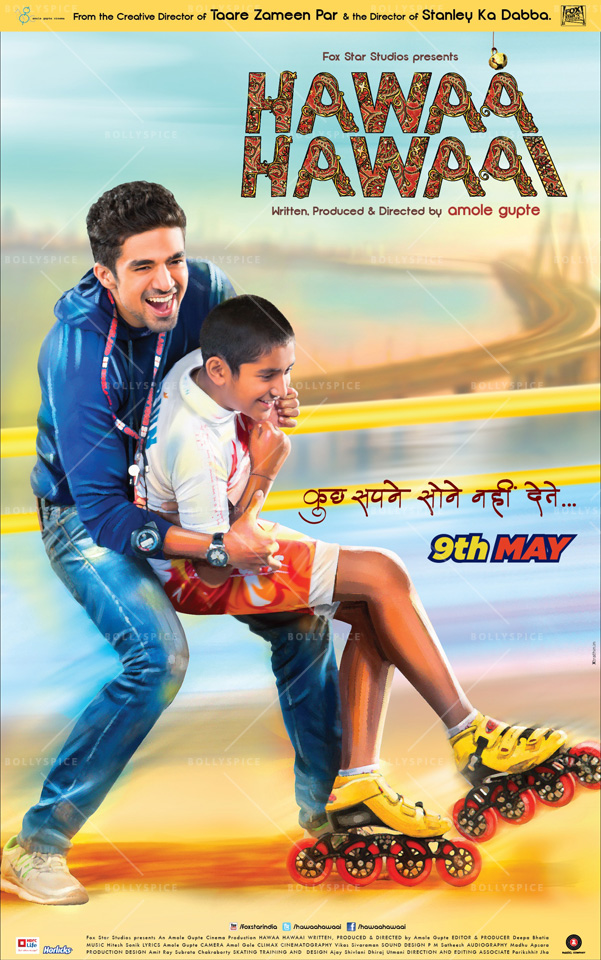 Hawaa Hawaai is an upcoming drama starring Saqib Saleem and child actor Partho Gupte. Based on the relationship between a child and a skating coach, the film has been directed by Amol Gupte and is scheduled for release on 9 May 2014. The music has been composed by Hitesh Sonik and Amol Gupte, with the latter providing the lyrics also. So does the music to Hawaa Hawaai work? Read on to find out what we thought of it.
First up is 'Choolhe Ke Angaarey,' which is sung by Javed Ali. The song was really tedious for my liking and it just did not have many positive qualities that one would expect from a song. Thus, do yourselves a favour and skip this one!
Next is 'Ghoom Gayi,' which has been performed by the wonderful Sunidhi Chauhan. I really loved Sunidhi's vocals in this one and delivers to perfection, which is no surprise. Though the music is slightly unconventional and contains a range of up-tempo beats and instruments such as the guitar, I recommend that you try it out. It's a different kind of tune, but nice at the same time!
Following this we have 'Sar Utha Ke,' sung by Javed Ali. Though it's a slow paced track and Javed delivers some respectable vocals, the song just did not work for me. To explain in short, it's boring and lacking in flavour.
Next up is the title track 'Hawaa Hawaai,' sung by Swaroop Khan and Hitesh Sonik. I like how the song opens, which has some nice strumming of the guitar. To be honest, the composition is nice and has a modest catch to it that will be of appeal for many listeners. Yet having said this, it is by no means an outstanding number. Try it out for yourselves and see if you agree with us.
Finally we have 'Sapnon Ko Ginte Ginte,' which has been performed by Hitesh Sonik. Unfortunately, this song just does not have that 'wow' factor to it and I only wish it was honed more in order to make it catchier. It was a nice try but it does not manage to succeed.
To sum up, I found the soundtrack to Hawaa Hawaai to be lacklustre and has been deprived of fiery tunes that one would expect from a typical Bollywood album. With the exception of 'Ghoom Gayi,' the rest of the songs are weak and forgetful. Hopefully, the film will have a stronger impact when it releases!