Debutant actor Girish Kumar speaks with Sunny Malik about his first film Ramaiya Vastavaiya. Directed by Prabhu Deva, the film, which opens Friday, also stars Shruti Haasan for the remake of "Nuvvostanante Nenoddantana", which was inspired by the 1980s cult Hindi film "Maine Pyaar Kiya".
You are producer Kumar Taurani's son… Was acting always something you wanted to do?
Yes, absolutely. Acting was always something I wanted to do. As you said, my father is a producer and I grew up in this environment. When I finished school, I told my father that this is something I want to do. I was about twelve or thirteen and wasn't taken seriously. However, I was serious about it and took some acting courses and action classes. My father saw that I was ready to put the effort in and told me that he will give me a launch in his home production.
How did you decide on the script of the film?
We started looking at scripts and my father saw a South Indian film that he really liked. The film is called Nuvvostanante Nenoddantana (also remade into Hindi as Maine Pyaar Kiya starring Salman Khan) and was also Prabhudeva's directorial debut. When we saw the film, we were really sure that we wanted to make this film in Hindi. The writer of our film has worked with Prabhudeva twice before and was keen to get him on board for Ramaiya Vastavaiya as the director. We didn't actually know that the film was directed by him because we saw the film in subtitles. When my father told Prabhudeva that we are remaking the South Indian film, he said 'Oh, I made this film'. So, I guess destiny was working in its own strange ways to get us together.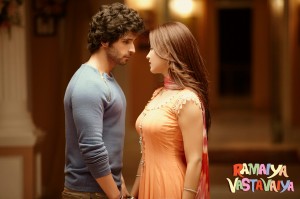 Was Prabhudeva happy to launch a newcomer?
He wanted me to audition for the role before going further as he wanted to see if I'll suit the role. He did two days of auditions with me – one day of acting scenes and one day of dancing. He saw potential in me and saw that I was ready to put the effort in. He was quite keen to get on board but was working on Rowdy Rathore at that time. He asked my father that while he is filming for Rowdy Rathore, he would like me to polish up my dancing skills. He also wanted me to become more spontaneous for my character Ram. After about eight months, after Rowdy Rathore released, he started working on my film. I was also sending him DVD's of me dancing to songs to new choreographies and would then get feedback from him.
Was becoming a good dancer the biggest challenge of working with Prabhudeva?
I wouldn't say that it was easy but Prabhu Sir is very kind and was very patient. He knew about my abilities and choreographed the songs accordingly.
Was it slightly difficult to understand what was required of you when Prabhudeva directed you since he is South Indian?
No, not at all. Prabhu Sir can speak Hindi and he always communicates in English. He knows every single word of the script and the dialogues. It was actually really easy working with him from that aspect.
Does the film have South Indian flavour to it since it's a remake?
I wouldn't say a South Indian but just an Indian flavour. One of our songs is Punjabi and there are different kinds of songs on the soundtrack which make the film very Indian.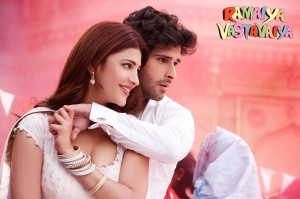 Being the producers son, was it somewhere your decision to cast Shruthi Hassan in the film?
I was not involved in casting the female lead at all. What happened is that we were looking for a fresh face and Prabhu Sir expressed that he would like to cast her in the film after seeing some of her work. He spoke to my father about it and he was keen about casting her as well.
'Jeene Laga Hoon' sung by Atif Aslam from the soundtrack became a rage online after it was teased in the first trailer…
The official song has now hit more than 9 million views on YouTube. I am just really happy with the songs from the film as they have been loved by people even before the release of the film.
Your first feature film is getting a UK release this month which is rare since distributors aren't releasing films with unknown faces here anymore…
It feels really great that my first film will release in UK cinemas. I know that there is a huge audience for Indian movies in the UK as I have studied here.
Where did you study here?
I studied at a college in Berkshire. I was at boarding school there for five years. I know that there are a lot of Indians who regularly watch movies at cinemas in the UK and I also have family in the UK. I am familiar with areas like Southall and Slough which have a predominant Indian population and I think it's good that we are releasing our film overseas for them to see it. I also believe that people are aware of Prabhudeva and his work. I am very happy that I can reach many places through my first film.
Ramaiya Vastavaiya releases in cinemas on 19th July 2013.