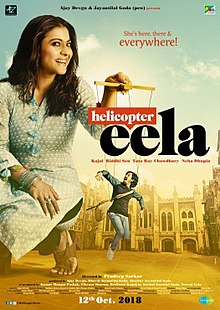 There comes a point in everyone's life where they just need to get away from their parents and find themselves. Its known as being a teenager. But what do your parents do with all the extra spare time once you're not around? And in a modern, fast paced changing world it's so easy to fall behind the times. Helicopter Eela, starring Kajol and Riddhi Sen playing mother and son, is the story of Kajol joining her son at music college to learn some new ways of doing the old things. Directed by Pradeep Sarkar under Ajay Devgn Films banner, it's a great mix of old and new, young and old. The music has been brought together in collaboration by Amit Trivedi, Daniel George and a special song from Raghav Sarkak.
While the title is very much a curve ball, if there was to be a title song this would be it. Mumma Ki Parchai sung by Ronit Sarkar is the story of the son. "Jo mein jaha bhi jao, who mere peeche peeche aaye". There really isn't much more that needs saying. As an audience member, you feel both sadness at his plight for having an over-protective mum but also laugh at that same plight with the rib-tickling lyrics. It's both relatable and slapstick at the same time. To give the lyrics the best chance to do this, the instrumentation is kept under the singer but otherwise could be any other angry rock song. Possibly its missing a break by a great guitarist to take it to the next level but still a fun song to get on with.
Yaadon Ki Almari by Palomi Ghosh could be the answer to the first song. Palomi's easy tones and smooth voice relate the story of a woman who has been and seen all and keeps in her heart all the cherished memories of the years. Light and fluffy throughout, almost country and western in feel. Many instruments are used like mandolin, piano, acoustic guitar, harmonica and even clicking and clapping but none allowed to override the singer at any point. The lyrics are key and on show here so listen carefully. There is a clip from an old song, referred openly as a "bhule bisre geet" as if she's just about to sing it aloud. There are a few dips for some soft moments, but these are easily brushed aside and moved on from without a moment's hesitation. The problem though is this represents a life well led but still seems to harp back to the same few events, thus even the lyrics are repetitive.
We couldn't do without a love song so there is Dooba Dooba. Sunidhi Chauhan and Arijit Singh are past masters of this format, the longing strains of violins, pianos and heart felt singing of sappy lyrics. The lyrics are there "dooba dooba maan tere pyar mein", the singers are there and so are the violins and piano. And then this takes a twist. The music owns this song from start to end. Sunidhi and Arijit are heard but they seem to blend seamlessly into the rest of what is normally background music. It's a mysterious feeling not to hear 2 great singers, masters in their field to seemingly take such a backward step and yet refreshing in that the instruments work so much harder to keep up with the maestros.
And of course, where there is a love song, there is a sad song. Chand Lamhe by Shilpa Rao does what it says in the title. Once again, the focus in on lyrics, so there isn't much in instrumentation; in fact, just an acoustic guitar for most of it and an earthen pot for beat coming in about half way. This one is all about tissues, as there isn't likely to be a dry eye in the house knowing Kajol's acting skills. And of course, with Amit Trivedi writing from the heart, his genius stroke is to stop the music during lines about "khamoshi" and "tanhayee" … a moment of raw emotion leaves the audience stunned to silence.
Khoya Ujaala is by Palomi Ghosh is the other sad song but is a bit of an awkward feeling with both huge highs and huge lows within the song. If it had just been the singer, this song could have strong effect, so there is an autotune synth beat to fight off the tears. Palomi herself sounds affected by this as she seems to take an extra second to come out of low bits to a sudden high point which throws the melody out of whack and breaks concentration on what is otherwise a nice sound.
But enough of the sadness, we have the ending song and all's well as it should be. Raghav Sachar is well known as a sort of Mark Ronson for India, rewriting the classics our parents loved into new jazzy versions often featuring him on his saxophone. Ruk Ruk Ruk doesn't disappoint in any of these parts. Of course, it's a remake of the song that made Tabu and Ajay Devgn such a great pairing, now being done on screen by Ajay's wife. Those involved wanted to make it so obvious this was to be a remake that Anu Malik even makes a return as music director in a cameo.
The importance of music in Bollywood films is always to break up a scene, tell the audience something in song that could have been told in a long dialogue or build the fever before a particularly dramatic or action-based moment of the film. In more recent years, its often seen as a device for telling the story too. In this album, Riddhi can't lose his 'Mumma ki parchaai', but Kajol is both mother and woman whose heart is a 'Yaadon Ki Almari'. Things are good and so you want to 'dive in' and then afterwards there are the memories of "Chand Lamhe" and of course 'Khoya Ujaala'. So, from a story standpoint these all hit the mark. 'Ruk Ruk Ruk' serves no story purpose but cinemagoers will get a great sense of fun as they leave the theatre. But none of these songs do anything on their own. Each one may be relevant for people during certain moments of life, but they're not likely to get listened to just because you need some music in the background.