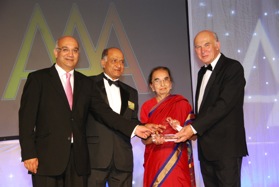 The crème of the Asian community has been shortlisted and this year's nominees announced for the coveted Asian Achievers Awards 2012. Taking place on 14th September at Grosvenor House Hotel, the Asian Achievers Awards will recognise the outstanding work of individuals from across all businesses and professions and acknowledge the accomplishments of the finest of the UK's Asian community.
Hosted by Asian Business Publications Ltd (ABPL), the event is now into its 12th year and promises to be bigger and better than ever before as 2012 marks the 40th anniversary of the publishing group's iconic newspapers, Asian Voice and Gujarat Samachar. The esteemed award ceremony will be interspersed with a line-up of world-class entertainment, a sumptuous dinner and charity auction in aid of The Sarvam Trust, an NGO that assists the integral development of rural India, including education for children. Their aim is to make villages across India self sufficient and prosperous as a total community.  This initiative supports the entire community, consisting of children, parents, youth, physically challenged people, senior citizens and widowed mothers.
Asian Achievers Awards 2012 will welcome a who's who of high profile dignitaries, cross party politicians, celebrities and high achievers from the Asian community, with veteran of the silver screen, Hema Malini attending as Special Guest and representing the ceremony's designated charity, Sarvam. Previous attendees include: Rt Hon Dr Vince Cable, Tony Blair, Jack Straw and David Blunkett.
An independent panel of high profile judges has shortlisted nominees and will in due course select the winner in each category, from a record number of public nominations. This year's panel comprises: Former England Cricketer Sir Ian Botham; Former India Cricketer Sunil Gavaskar; Former Daily Mirror Editor Richard Wallace; the first Gujarati to represent the Conservative Party in the House of Lords Lord Popat; Cross Bench member of the House of Lords Baroness Prashar; and former diver and one of the youngest participants in the 1948 Olympics Peter Elliot.
This year's nominees are:
AAA Gold Award for Achievement in Media, Arts and Culture:
Founder of Bollywood Dance London, Nileeka Gunawardene; Actor and Film Producer Ray Panthaki; Music Producer Rishi Rich; Writer and Broadcaster Dr. Sathi Ludhianvi.
AAA Gold Award for Uniformed and Civil Service:
Chair of the Asian Fire Association and Station Manager in the London Fire Brigade Tejinder Ajimal; Director and Controller of the Royal Navy Rear-Admiral Amjad Mazhar Hussain CB; the longest-serving Asian Special in the Metropolitan Police Special Constabulary Gurcharan Singh Dhesi MBE; Chief Executive of Job Centre Plus Darra Singh; Training Manager in the Royal Navy Lt. Bhavna Parmar.
AAA Gold Award for Woman of the Year:
CEO of the International Federation of Netball Urvasi Naidoo; pioneer and leader of herbal care clinics Shahnaz Husain; BBC News presenter Mishal Husain; Dean at University of Bedfordshire Business School Dr. Sonal Minocha;
AAA Platinum Award for Sports Personality of the Year:
Professional Boxer and Ambassador for The Prince's Trust Akaash Bhatia; English footballer for PAEEK Netan Nico Sansara; British wheelchair rugby player and Paralympian Mandip Sehmi; British wheelchair rugby player and Paralympian Bulbul Hussain; wheelchair basketball player Gaz Choudhry.
AAA Gold Award for Professional of the Year:
Founder of the UK's first independent risk management firm, Vedanta Hedging Ltd Abhishek Sachdev; Director of Government and External Affairs at The Open University Rajay Naik; pioneer of the laser eye surgery technique LASEK Prof Sunil Shah; Consultant Cytopathologist and Clinical Head of the Manchester Cytology Centre Dr Minaxi Sharad Desai CBE; Professor of Infectious Diseases and International Health at University College London Medical School Prof Alimuddin Zumla.
AAA Gold Award for Achievement in Community Service:
MBE for his outstanding service for the Department of Transport Chelliah Yogamoorthy; philanthropist and ambassador for diverse communities and the deaf Asif Iqbal; Founder of the City Sikhs Network Param Singh; lecturer, speaker and teacher of Religious Studies Kishan Devani.
AAA Platinum Award for Business Person of the Year:
Founder of the Genisys Group Ashok Rabheru; Group Founder and Chairman of the Lycatel and Lycamobile Group of companies Subaskaran Alirajah; Hotelier and Owner of Eden Plaza Mansoor Popat; Global Chairman of TOPSGRUP Dr Diwan Rahul Nanda.
AAA Gold Award for Young Entrepreneur:
Founder of IMA Consultancy Ishil Mehta; Co-Founder of Enviropack Ltd Samir Shah; Hotelier and Publisher of HPD Zima Parmar; Co-Founder of OneClickPharmacy.co.uk Priyesh Rawal.
AAA Platinum Award for Lifetime Achievement:
Britain's first Asian Judge Judge Mota Singh; Founder of Noon Products Lord Noon; Founder of Vitabiotics Dr. Kartar Lalvani; Founder of 99p Stores Nadir Lalani.
Additional awards will be announced on the night for Entertainer of the Year and International Personality of the Year.
The Asian Achievers Awards salute individuals who are singularly responsible for bringing the Asian community to the centre stage of British life, and celebrate the exceptional and exemplary achievements of community members that are truly inspirational. The coveted Awards were first envisioned as a standard of