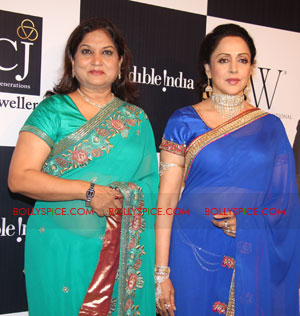 Dream girl Hema Malini was the show stopper for friend and designer Nisha Sagar & Scintillating Jewellery at IIJW (Indian International Jewellery Week) where Nisha Sagar was showcasing her Bridal Collection. Looking stunning in royal blue saree teamed up with glittering diamond set, arm band and waist chains Hema Malini wooed the crowd at jam packed hall at The Grand Hyatt.
Nisha Sagar decided to team up with Scintillating Jewellery because of their extensive design range for brides and weddings.  While Nisha Sagar's core expertise is Trousseau, jewellery brand 'Scintillating' specializes in exquisite designs in uncut and cut diamonds.
The BRIDAL COLLECTION from Nisha Sagar is a mélange of vibrant hues in royal blues, emerald greens, lime greens with a subtle hint of pinks & oranges. The colour palette & the motifs are warm, showcasing her signature style. The fabrics used are single – toned nets, soft chiffons, georgettes, brocade and silk. The embroidery is detailed with intricate resham work lifted with subtle gold embroidery & embellishments. The garments are ornamental in nature. A blend of resham with kundan, this collection truly satiates the wants of any bride. The silhouettes are flowy & royal, allowing the bride to be a princess on her day.
Scintillating Jewellery is launching the entire range of its Bridal collection today. Consisting of 17 Bridal designs and 8 Fusion designs, they use Diamond studded 18 carat gold jewellery, which is also enhanced with Ploki, coloured stones and meenakaari for additional grandeur. Scintillating Jewellery is an exclusive diamond Jewellery brand that has been in existence since 2003. Promoted by the 'Dhanraj Dhadda Group', the most trusted brand in diamond industry for the last five decades, being awarded 'The Best Diamond Vivaha Jewellery 2006' & Tahiti Pearl Award, amongst many more accolades.