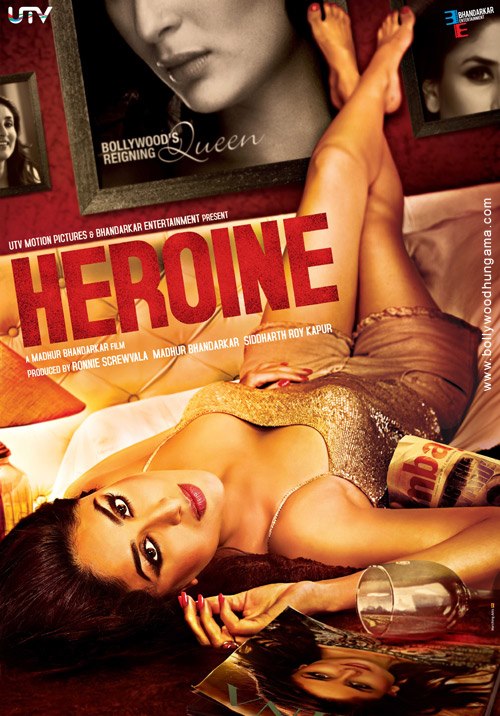 Madhur Bhandarkar's Heroine has been headlines since its controversial inception with its Aishwariya drama, the casting of a new heroine, and its source material. It's safe to say that the film has become so awaited to see how the results come off with Kareena Kapoor taking on a meaty dramatic role after some time. With its interesting trailer that hooked everyone in, to its fun 'Halkat Jawani' number, Heroine is definitely looking good for the heroine dominated season of 2012. Salim and Sulaiman take the music after their success with Fashion. With 5 tracks on offer, the Heroine soundtrack has some tracks to savour, but it does feel like a letdown.
We start the album with the addictive Halkat Jawani, which begins with that characteristic guitar riffs to get you hooked in, along with Sunidhi Chauhan beckoning "Aaja" with her slinky voice. The track may middle through the same Salim Sulaiman territory with its familiar harmonium melody, and dhol beats, but it's the chorus line that completely impresses. Sunidhi Chauhan, who is such a veteran with item songs like these, brings something new to this rustic fusion. In the end, the song achieves its aim in creating a simple and catchy tune that will catch on. Even if it does sound like the usual item song offered every few weeks, you can't deny the fact that this one seems to trump the rest with its Salim Sulaiman hook. Along with its promo video, and Kareena having a ball, the song has done half of its job. The lyrics too are perfect balance of crassness and stock item lines but packaged in a slick way that makes sure that you're singing the key lines after the song ends. Keep this one on repeat!
After that gem is Saiyaan, which is rather lacklustre as it seems to reuse the same melody from the far lovelier 'Yeh Honsla' from their earlier film Dor. This song sounds too familiar and just lazy for the composers to just rehash a previous hit into a more Rahat friendly song. Yet if you can forgive this glitch, then the song is rather easy on the ears with the dholak and violin melody, which is so haunting and lovely. Rahat Fateh Ali Khan sounds as reliable as ever, but overall the song sounds like a Rahat staple. In spite of its nice melody, the 'Yeh Honsla' sound just hangs over the song. Give it a try or skip it.
Next is the interesting, Main Heroine Hoon, which is sung by the fabulous Aditi Singh Sharma who sounds so haunting on this track. While the composition leaves more to be desired with its situational sound, the song sticks with you because of the lyrics and Sharma's great vocals. The song sounds like it could be played during Mahi's downfall but its orchestral sound during the chorus makes it seems like it could go along the credits of the film like the James Bond tune. With lyrics like "Bistar ki silwat mein, Kahaani ki karwat mein, Tanha main rehti hoon, Main heroine hoon" which eloquently describes the heroine at the centre. I love the little strands on the sitar overlaid with the dubstep beats during the bridge, which gives it that extra edge. Give this a listen as I think it definitely transcends its situational sound.
Next is the moving Khwahishein, which is another gem with its lilting piano and violin melody that immediately sets the melancholic tone for the song. The lyrics are a bit standard but it's Shreya who breathes a bit of life into these verses. Shreya Ghosal is becoming one of the absolute go-to singers for composers and she is certainly ubiquitous. But with each song she does there's such a versatility so that you don't end up tiring of hearing her voice all the time, this is another example. She gives it her all for this soft-rock number and sounds wonderful, ensuring that her work trumps the song's middling composition. Give a listen for Shreya alone.
Lastly we have the fun, Tujhpe Fida, which ends the album on a good night, as I am a sucker for any Benny Dayal song on a Salim Sulaiman album. The song gives the album a much needed boost of energy after its maudlin and melancholy songs. This club song definitely gets you in a dancing mood and it's bound to make an appearance on the dance floors for a while. Dayal and Shraddha Pandit are reliable and energetic which makes the repetitiveness tolerable because they have such a good chemistry in the song. Pandit sounds so good during the slower bridge and her solos are great too. Keep this on repeat!
Heroine is not a bad album, but after being such a hyped movie, one would hope that the music would be just as outstanding. And that too, by Salim and Sulaiman who need a major boost after the average Jodi Breakers. With a mixed bag of songs that partly work, Heroine's major song 'Halkat Jawani' has already ensured some success with the audience, but in general the album feels a tad unmemorable.