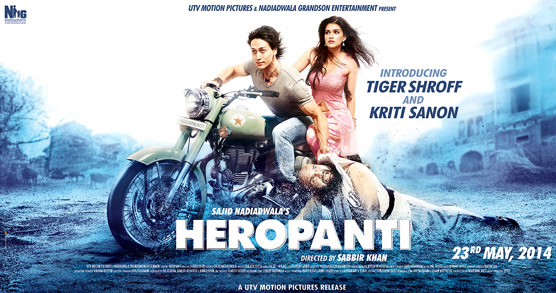 Heropanti was made with the sole intention of establishing star son Tiger Shroff as the next big thing. It fails spectacularly in its objective. A bad film trying to sell a bad actor is one of the most painful things to sit through.
Heropanti is set in the 'jaatlands' of Haryana and attempts to tell the story of the struggle between conservative mindsets and the new generation. So the heroine Dimpy (Kriti Sanon) lives in a household that gives women no personal liberty but she still walks around in the skimpiest of blouses and lehangas tied dangerously low on her waist. When her sister Renu runs away on her wedding night, the men in her family kidnap all the friends of the boy Renu ran away with. One of them is Babloo (Tiger Shroff) and as expected love blossoms in adverse circumstances. What a wonderful chance to make a statement on the evils of khaps, one would think. Unfortunately, the film is not interested in making any kind of statements except the ones on Tiger's six pack and sleek action moves.
To put it in a nutshell, Heropanti fails on all levels. The romance is so cringe-inducing that one keeps wishing for the scenes to move from the couple to the supporting characters. Because the chemistry between the leads is so cold, those nice songs also lose their charm. The writing is bad throughout and the screenplay all over the place. The dialogues are the saving grace and manage to provide a few laughs now and then. Even the much publicised action scenes are bland, mainly because Tiger, for all his perfect moves, is not able to bring the right emotion to them.
Far from providing a good launch to Tiger, the film ends up displaying all his weaknesses. No amount of perfectly executed back flips can hide a complete lack of acting talent. Kriti is a little better but that is not saying much. It is the supporting cast that keeps the film afloat. Sunil Grover's cameo is simply brilliant. The other scene stealer is Prakash Raj. After playing the same villain in film after film, he finally gets a role to showcase his versatility. Unfortunately his dignified performance gets lost in this hamfest of a movie.
The only good Heropanti ends up doing is being a lesson for debutants who feel that six packs and smooth moves are enough to make them a star. That little thing called acting talent is important too. And the audience deserves better.