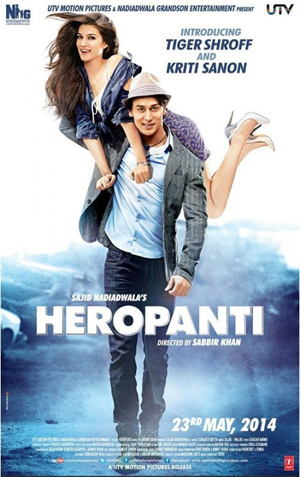 Tiger Shroff, son of the great Jackie Shroff, is getting ready to make his big screen debut in Heropanti. Directed by Sabbir Khan, the film, which opens May 23rd, also stars newcomer Kriti Sanon. The great composing duo of Sajid and Wajid along with some special guests and killer singers were brought in to create the music for the action romance. So do the songs surprise with their pitch perfect notes or do they fall flat? Read on to find out what we thought!
Beginning with and incorporating elements from the classic flute tune from Jackie Shroff's film, Hero, Whistle Baja already had a something great going for it. The song takes the iconic flute line and adds in a contemporary groove and it so works. I have to admit I have a bit of a music peeve with whistling in a song so at first reading the title I thought, ohhh no, but I was proved wrong. The whistle is like another instrument and really added to the track, it did not take away. Composed and sung by Manj Musik aka Manjeet Ral, he is joined in the vocals by Nindy Kaur and Raftaar. This Punjabi/dance/rap mix hits all the right notes and makes you want to get up and naach! Got my shoulders a dancing while listening for this review so give it a listen.
A lovely acoustic melody line begins the superb Rabba. A melodious love song, I was smiling and my ears were happy only 48 seconds into the song. Then the gorgeous voice of Mohit Chauhan joined in and 'Rabba', of course, got even better. Chauhan is perfect for this track and sings with such feeling and a wonderful tonal quality and intonation. Giving the vibe of a 90s Bollywood track, 'Rabba' also has a modern flavor as well, which really works. There are so many great separate parts to this song and then added all together you get movie music goodness. This one I wanted to hit replay before it was even over. 'Rabba' definitely made it on to my "lovely Bollywood jams" list. Sit back and get lost!
What starts out as a ballad, Raat Bhar actually is a full on EDM track with a very cool groove. What makes it so cool is the many different musical layers laid down to make the track full of sound. Add in the rough and cool vocal of Arjit Singh and that takes it to another level. He is fabulous. Of course, the pure tones of Shreya Ghosal add a beautiful element to the song. About half way through Ghosal takes over and the song goes a bit more pop with a synth underlay. Though that section could actually be considered to be a separate song it works in this instance, because you can see the Hero singing his part and then Heroine… and if you watch the video yep, that is exactly what happens! This dance track has everything that is good, mixed wickedly and you can enjoy it listening and dancing in your room or getting your moves on on the dance floor. Another hit and another to add to a playlist!
The album just keeps getting better and better with Tabah. With a pop rock flavor, 'Tabah' features the brilliant Mohit Chauhan again. With rough edges when needed, with smooth notes, with passion and energy this song shows how truly great Chauhan is. I loved this song from the first few notes. The music interludes were great with a wailing guitar and the softer flute and piano stanzas but sometimes it gets a bit confusing as to what the song is especially with the background music. But all that sort of fades away, because it is Chauhan's killer vocals make the song! Another one for my playlists and you should add it to yours too!
There is also a Tabah Remix by DJ Angel and I admit I was a bit worried because the original had so much eclectic music to it but this is too good! Adding just the right extra layers and beats we still get the killer Chauhan vocals but in a new dance vibe. Give this one a spin too!
Raftaar is back with The Pappi Song. With Raftaar at the mic you know this has a dance/hip-hop vibe. A little tin-y in sound and a bit cheesy especially with kissy noises, it does have a peppy beat. The vocals, both the harmonies and the rap are fab. Not one to go on a playlist for me, but it may be your groove so give it try.
Last, but certainly not least is Tere Binaa composed by Bilal Saad and Mustafa Zahid. If you have read my reviews before you know I am a sucker for an awesome love ballad that has an emotional vocal with a simple acoustic guitar line to back it up. I get that musical joy with the 'Tere Binaa'. Composer Mustafa Zahid also takes on the singer role for the romantic track and he is wonderful singing with so much emotion you feel every note. A bit picky, but I have to say I am not sure it needed the echo effect added in, his passionate vocal held its own. I love the different syncopations they had in the song that made 'Tere Binaa' resonate and play even better. I got so lost listening to the song I forgot to take notes. You have to give this one a listen too and then again and again.
The music of Heropanti is a fantastic set of songs. Each song stands on its own and I think once within the frame of the movie will enhance the story. The vocals are the highlight and make the songs well… sing. Besides 'The Pappi Song', I say give every song a play, I am sure you will want to add them all to your Bolly-playlists whatever they may be! 3.5 stars for this one!