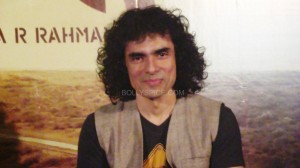 Imtiaz Ali says he braced himself for a free fall while working on his experimental road drama Highway but the director is happy that the risk has paid off.
The film, starring Alia Bhatt and Randeep Hooda, was made on a budget of Rs 18.25 crore. Ali says the film earned Rs 15.50 crore before its release and made Rs 22.38 crore from 800 screens in its first week of release. The director, who turned producer for Highway with his Window Seat Films, says the project was his attempt to have more creative freedom.
"With 'Highway' I was trying to plant a seed. How else do you create an elbow room for yourself? I want to direct what I feel is interesting not what is supposed to be my zone. I don't want it to be narrow. It was a huge risk as I was into completely uncharted territory but luckily it paid off," Ali said in an interview.
Things started falling into place when Sajid Nadiadwala pitched in by turning a presenter while AR Rahman came on board for music again after collaborating with Ali on Rockstar. Still assailed by doubts, Ali says he promised himself that he will abandon the project midway if the story did not come together as it was an open script.
"I took money from Sajid bhai hoping that I will manage to return it and if I don't I will pay him by working. I have always tried to make profitable films because people's offices shut down if films fail and I will do everything to avoid that. This is why I wanted 'Highway' to be my risk alone," says Imtiaz.
The journey has not ended for Ali with the release of the film as he has been touring cities and gouging audience response by visiting cinema halls.
"The audience has responded and connected with the story on an emotional level with both Alia and Randeep's characters. It is very important to have honest feedback and that comes directly from those who have just watched your film. This is why I have have been travelling even now," he said.
Ali was trying to make the film for a long time and now that it has released, he says there is a certain vacuum.
"There is always a vacuum at the end of a film. I was trying to make it for so long and I know that I have made it there is a certain kind of emotional gratification that has happened," Imtiaz said.
The Jab We Met director says the lessons he learnt while directing Highway will impact the course of his future films. His next will have Ranbir Kapoor after Rockstar.
"I am now zoning towards the other film. I think I will go into it quickly. It is again something that I have been thinking for a while now. It is projection of something that is very personal but it is told in a story telling type of way. I don't know how it will turn out," says Ali.
The director says he has to begin from zero as the previous versions of the story were lost when his computer crashed.
"All the other versions have been erased and I have to begin from zero which in a way is good. I will be able to recall what is important while the decorations would be gone. I am glad about it," he said.