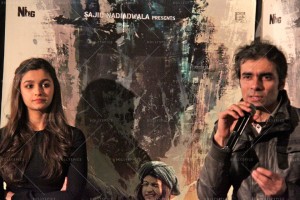 Fresh from its world premier at the Berlin Film Festival, director Imtiaz Ali (Jab we Met, Rockstar) and actress Alia Bhatt (Student of the Year) flew straight into London to show an exclusive preview of their road journey film Highway to the London press.
Highway stars Randeep Hooda, alongside Alia Bhatt and has music by AR Rahman. It's the second time Imtiaz has got together with AR since their amazing sufi-cum-rock soundtrack from Rockstar and the music has been equally mesmerising.
Imtiaz shared: "I've been thinking about this story (Highway) for 15 years and then finally got round to making it and after a year of filming and post production, I finally got to see the film in Berlin from the beginning to the end." It was also the first time lead actress Alia got to see the film too!
In an exclusive for London, Imtiaz presented a music video for the film, which features AR Rahman himself. Imtiaz pointed out "It is Rahman's first Punjabi song ('Patakha Guddi'), which is heavily inspired by his love for the late Nusrat Fateh Ali Khan." Although the video is not in the film, it will be shown at the end.
It was interesting to hear how the 'un-scripted' film came to be made, Imtiaz explained "There was a 'light' script, I knew what would happen, but tried to specify not too specific things, nor had too many instructions, so I kept the script open. It kept changing depending upon what we would stumble across in the journey."
Alia was equally honest sharing, "We've led very protective, secure lives. Not seen much, not done much. Basically our lives are very boring and lacking adventure. The more raw and untouched I was the better, because the journey so overwhelming, so that whatever happens would be a genuine reaction."
Highway follows the story of a young city girl abducted by a group of men off a highway outside the city, who take her across the plains of India, kidnapped in the back of a truck. The film is the story of her journey – both inner and external. It releases worldwide on 21st February.
Watch this space for our exclusive review.