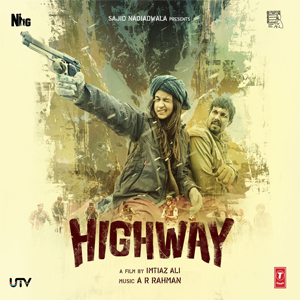 After an outstanding film in Rockstar, Imtiaz Ali writes, produces and directs his latest feature film, Highway. Fifteen years since he first conceptualised the story, he finally got to make it in the past year. The film, a road trip movie, is largely unscripted and features newbie Alia Bhatt and the not so new, but also not so big, Randeep Hooda, in principal roles. Does Highway live up to the gigantum expectations which follow Rockstar? Does Imtiaz's fifteen year old vision pay off? Read on to find out…
The story in a nutshell: rich city girl Veera (Alia Bhatt) on the eve of her marriage, is abducted by a group of thieves, whilst out for a midnight drive with her finance. She is driven across different states and landscapes by her captors, headed up by a ferocious and unrelenting Mahabir (Randeep Hooda). During the course of her captivity, the experiences of her journey and the interactions with her captors shape her so profoundly that she will never return as the same girl who left.
Highway continues Imtiaz Ali's theme of 'detachment' which is a recurring theme in all of his films: Shahid Kapur's role in Jab We Met, Saif Ali Khan in Love Aaj Kal and again Ranbir Kapoor in Rockstar. It covers that feeling of when one materially and socially has everything which they could desire for and yet there is still that deep hole in their life. Such is the case for Alia Bhatt's character here too.
Although shot across some of the most beautiful locales of India, in what is truly a picture perfect film, Highway is still a very urban yuppie film and it will most appeal to those very same people. Highway is that journey which we would all love to take and that experience we want to have. By 'we', I mean the upper middle-class, city dwelling and international audiences. Sadly many won't get the chance, but that's why films like Highway are appealing and deserve a watch. Highway is escapist cinema, but perhaps not for the masses.
Performance wise the lead pair are outstanding. If anyone had any doubts about Alia Bhatt, forget all that. This a fine example of a great director, with an fantastic story, offering her a strong author backed role to really sink her teeth into. What makes it all the more real is that she hypothetically plays herself, very much easily molding into the character, which is so similar in background to who she is in real life. Yet her transformation is something you can't just pass as mere acting – it's a real performance and one which will blow you away in parts.
As for Randeep Hooda, if you thought like many of us: 'Surely they could have gotten a bigger star', then you will definitely walk away thinking 'what a choice'! Randeep brings a rawness and genuineness to his character, making him gritty, honest and real. Right down from his look, to his body language, to his diction. You will hate him, but will also come to love him.
Music wise AR Rahman outdoes himself once again. So unique and apt is the films music to the film, that you simply forget any comparisons or expectations from Rockstar, or any other of Imtiaz or Rahman's films. Highway's music blends well to the different settings and locations of the film, really teasing out the authentic sounds and voices of each place and once watched, the lyrics will mean all the much more to listeners.
Finally to Imtiaz's writing and directing. As mentioned the film was largely unscripted, with scenes and shots put together while the film unit were on the road. There's a nice balance of humour and dialogue throughout, given the film's serious theme. Imtiaz draws a host of great supporting characters which really compliment the main characters. The editing could have been a tad bit tighter and the tone a little bit more even in some places, but elsewise it's a fine piece of directing and a nice addition to his filmography.
Highway is great watch, probably just short of being a classic for reasons which we can't quite put our finger on yet, but it will leave you astounded and amazed with both it's narrative and performances. It hits you with some core issues, to talk of which would be an unfair spoiler. For now, take it from us, if you loved Monsoon Wedding and Zindagi Milegi Na Dobara, then you will definitely love Highway, so go give it a watch and see parts of India which you may never have seen or experienced before.
(This review is from a London press screening, which included the director Imtiaz Ali and actress Alia Bhatt.)