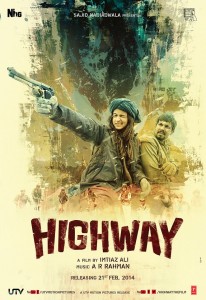 Highway is a forthcoming drama starring Randeep Hooda and Alia Bhatt in the leading roles. Directed by Imtiaz Ali, the film is scheduled to release on 21 February and marks Ali's return to directing after a gap of 3 years (Rockstar being his last directed film). The music has been composed by the one and only Mr A R Rahman who clearly needs no introduction. The lyrics have been written by Irshad Kamil, who has penned songs for albums such as Aashiqui 2 and Gunday. The only track which is not written by Kamil is 'Wanna Mash Up,' which has been written by Lady Kash and Krissy. So is Rahman's new album in the same league as his previous works? Read onto find out our thoughts on the music to Highway!
First up is Patakha Guddi, sung by Jyoti Nooran and Sultaan Nooran. I think the major appeal of the song is the music, which incredibly catchy and full of beats. I like that Rahman has chosen to throw in a bit of techno into a desi composition. The vocals have also been delivered very well, which gives it a nice overall edge. There is also a male version sung by no other than A R Rahman himself. Though Rahman offers a brave vocal performance, my main problem with this song was the composition, which is not in the same league as the female version.
Next is Maahi Ve, which is again sung by A R Rahman. I absolutely loved Rahman's voice in this song! He gives it a cool masculine feel to it, which will no doubt appeal to all the guys! In addition, the mellow composition is great to hear and complements nicely with the vocals. Hence, definitely do give this one a listen as it is one of the major highlights of this album!
Kahaan Hoon Main is next and has been performed by Jonita Gandhi. This song is likeable and I very much appreciated the way in which this song was arranged, which gave a melancholic feel to it. If I was to make comparisons however, it perhaps did not stand out in the same way as 'Maahi Ve.' Yet it cannot be classified as a bad song so I would advise that you check it out and make your own verdict on it!
Following this, we have Wanna Mash Up, sung by Suvi Suresh and Lady Kash and Krissy. This one was not to my liking unfortunately, though I should stress that this is not because of the fact that it's sung in English. I just found the composition to be of weak appeal and therefore; I did not find myself leaning towards it as much as the other songs in this album.
Sooha Saaha is next, which has been sung by Alia Bhatt and Zebunissah Bangash. Hats off to Alia, who sings to the best of her ability in this one. Though I had a mixed reaction to the composition, I recommend that you still try it out as it does have a quality to it that will have an impact on many music lovers.
Next up is the instrumental Implosive Silence. With some light vocals from Jonita Gandhi, it is a good but by no means great composition. However, it should be mentioned that this music has perhaps been made to be included during a key moment in the film. Therefore, we may appreciate it more once the film releases and we see how it has been picturized.
Tu Kuja is next and has been performed by the sensational Sunidhi Chauhan. I very much enjoyed the music in this one and Rahman executes the tabla very well. In addition, Sunidhi provides a splendid performance, which shows that she is getting better by the day! This was another key highlight for me which I recommend that you check out.
Finally we have Heera sung by Shweta Pandit. Though there are nice instruments that have been used for this song such as the flute, violin and the sitar, I found the vocals by Shweta to be the big appeal. She performs with passion and grace throughout and gives the song a nice polish to it. Having said this, it is not the best song in the album (though not the worst either). Check it out and it may win you over!
Before bringing this review to a close, I would say that A R Rahman has put in a respectable amount of effort in producing the soundtrack to Highway. There are a few standout numbers such as 'Patakha Guddi' (Female version), 'Maahi Ve' and 'Tu Kuja' which will definitely transform into hits. Yet there are also a few songs which did not work too and could lead to them being overlooked. Therefore, Highway is definitely not one of A R Rahman's best works and one wishes that he included a few more good songs that could lead to us appreciating the album in its entirety. However, one should also appreciate the fact that almost 20 years after entering the Bollywood scene; this man has proven that he can still mesmerise us all with some truly enthralling music!