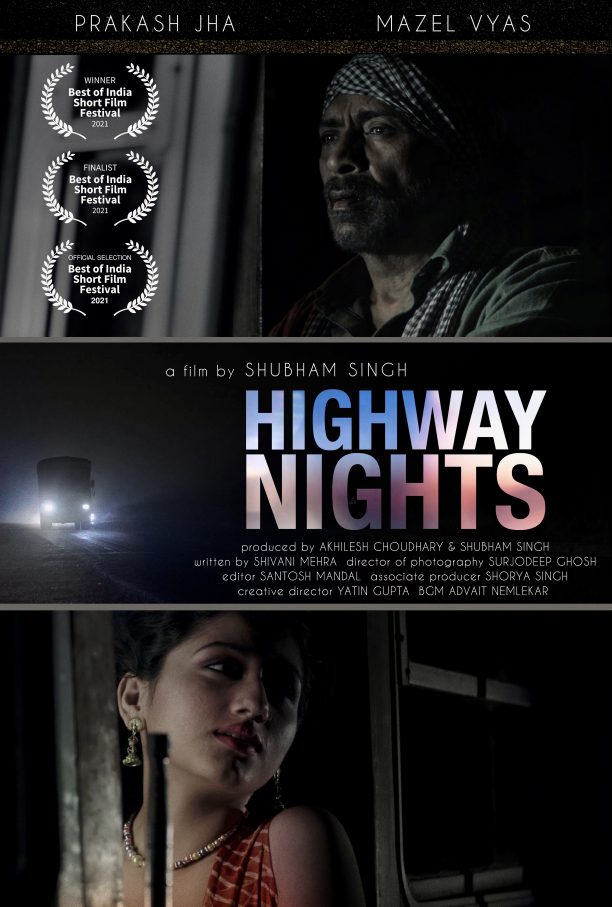 Highway Nights, which features director Prakash Jha as the lead in the film, has won the grand jury prize winner at ShortsTV Best of India Short Film Festival. Directed by Shubham Singh and produced by Akhilesh Choudhary, Highway Nights is to story of an ageing, overworked lorry driver who gives a lift to a young, chatty sex worker one night.
ShortsTV is the first and only worldwide 24/7 channel and network dedicated to short films. the ShortsTV Best of India Short Film Festival, launched in 2018, aims to recognize and elevate the exceptional work of some of the most creative short filmmakers in India, giving them a global platform to showcase their work and opening up new opportunities including Oscar® consideration.
The previous edition saw participation from Bollywood's leading actresses and directors including Vidya Balan, Soha Ali Khan, Sayani Gupta, Ronnie Screwvala, among others. Over the course of previous three editions, the festival has seen a rise in submission of regional language short films in Bengali, Tamil, Malayalam, Marathi, and Telugu, that have been bringing forth socially relevant story plots delivered via creative storytelling. And, in fact, the winner of the 2020 edition was 'Natkhat' featuring leading Bollywood actress Vidya Balan, co-produced by Vidya Balan & Ronnie Screwvala and written by Shaan Vyas & Annukampa Harsh.
In it's fourth edition, the ShortsTV Best of India Short Film Festival, received over 2400+ entries. The fourother short films selected for this category explore, within different genres, contemporary themes in society.
The Case, which also received nomination for Social World Film Festival 2021, is about a lawyer who questions another woman's decision with her own dilemma that threatens to take her world apart. Directed by Arun Varghese and Produced by Priyanka Murmu, The Case features Nishant Gala, Neha Mahajan, Arun Varghese & Carroll Chiramel.
Itwaar, Directed by Rahul Srivastava and Produced by Prateek Chakravorty stars Kumud Mishra and Lubna Salim. Itwaar is the story of a father who relocates to support his son's studies. Cynicism turns him into a hypochondriac impacting his mental health and family ties.
The Last Rights, starring Kanupriya Sharma, narrates the story of a young Indian woman who challenges her society's patriarchal traditions in order to give her deceased grandmother her last rite. The Last Rights, Directed by Aastha Verma and Produced by Anil Kumar along with Aastha Verma won the Best Short Film Award at Wildsound Feedback Writing and Film Festival.
Dafan, featuring Ahsaas Channa and Neena Kulkarni is Directed by Adeeb Rais and Produced by MadMidaas Films. Dafan won the Cult Critic Movie Awards in Outstanding Achievement Award category. It is a powerful coming of age story about class divide, labour issues, truth and humanity. Can one incident change the way our morals lead our professional life? Has the need to succeed taken over our ability to adjudge right from wrong?
Congratulating the 5 finalists, Carter Pilcher, Chief Executive, ShortsTV said, "India has a wealth of creative storytellers!  What fun to see once again this year the huge number of aspiring filmmakers entering the ShortsTV Best of India Short Film Festival from all corners of the country. These amazing entries deserve recognition. What a pleasure to showcase the most compelling films for our subscribers – they will love every minute!" 
Sharing his thoughts on the growing success of the Festival, Tarun Sawhney, President – Asia, ShortsTV & Festival Director said, "Short format content has seen an exponential boom in India in the recent years with some of the most distinguished stories being woven into powerful short films that deserve global recognition. With the ShortsTV Best of India Short Film Festival, we aim to recognise the innate talent of Indian filmmakers and are very proud of the steady growth in the number of entries we have received over the years since its inception in 2018. We are truly elated at bringing forward another set of beautiful short films that are a work of art."
The channel is available in over 100 million homes across the US, India, Latin America, Europe and more. With over 13,000 titles, ShortsTV has the world's largest catalogue of quality short film offerings, including award-winning and star-studded live action, animated and documentary shorts. From content offerings and various distribution/licensing deals to presenting the Oscar Nominated Short Film releases for over 16 years, ShortsTV seeks to amplify the voices of filmmakers around the world. As the leading advocate for short filmmakers globally, ShortsTV is also proud to be the initial and vital steppingstone for short film creators at the beginning of the content development funnel.