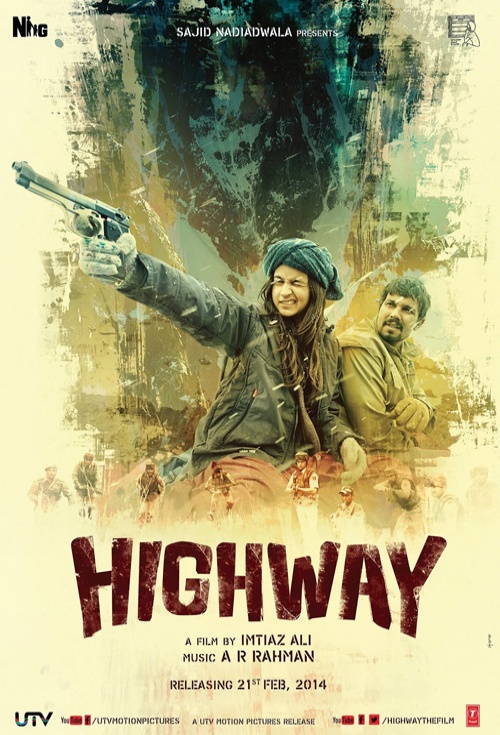 There's been plenty of anticipation surrounding Highway since its trailer was released and this has only been fuelled by the launch of Patakha Guddi, sung exquisitely by Sultana and Jyoti Nooran. Composed by no less a legend as A.R. Rahman and with lyrics written by Irshad Kamil, the song is just a taster of things to come. Now given release set for the 21st of February, Highway has to be one of the most exciting new Hindi movie releases for many months and booking your seat might be advisable for one of the early screenings. Try a big multi-screen chain such as Cineworld where it is possible to do this, as interest in the film and the buzz surrounding it is only going to grow in the coming weeks.
The film's director, Imtiaz Ali, recently expressed surprise at the level of interest in his movie even before it has hit the screens. He said that he was utterly astonished by the selection the road movie to be included at the Berlin International Film Festival – a highly prestigious European cinema event. He said that he felt that platforms such as these were the reserve of filmmakers like Anurag Kashyap. Highway, which stars Alia Bhatt and Randeep Hooda, will receive its world premiere during the Panorama section of the festival with UK screenings to commence afterwards.
Perhaps Imtiaz should not be so surprised at the more critical interest in his movie making he gets these days. Although it is true to say that his earlier films were part of the typical Bollywood stock of song and dance and romance visions, the director has undoubtedly developed his style. Imtiaz has, in many cinema-goers eyes, gradually developed as a serious filmmaker and gone on to make his own distinctive style on the big screen. This was certainly in evidence if you look at his last release in 2011, Rockstar.
The plot of Highway revolves around a kidnapped rich girl who goes on to form an unexpected bond with her captor in what might be described as a form of Stockholm Syndrome. Alia Bhat plays the young city girl who is abducted whilst driving along the eponymous road. Randeep Hooda plays the ringleader of the rural gang of kidnappers and the two principle characters end up on a strange sort of road trip. As the two continue on their lengthy journey, they pass through some spectacular landscapes. All the while, the girl feels increasingly freer than she ever did before, despite being kidnapped.
Horse enthusiast Randeep Hooda is probably best known for his role in Once upon a Time in Mumbai. However, if you have not yet caught his performance in Saheb, Biwi Aur Gangster, then that is well worth checking out, too.