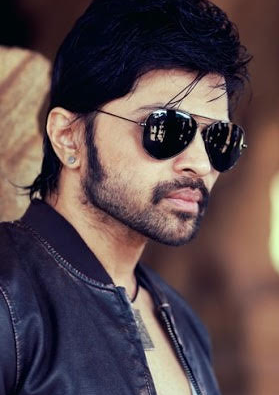 During last year, we noted how music director Himesh Reshammiya truly loves to nurture and support new singing talent. This was also evident as he continued to participate as a judge in two reality shows last year: 'India's RAWStar' and 'The Voice – India'.
As Himesh had replaced the original judge YoYo Honey Singh half way through India's RAWstar, he developed a bond with the top three final singers of the show – Akasa Singh, Darshan Raval and winner Rituraj Mohanty.
Akasa Singh has already performed with Himesh on a mini international tour to Fiji and New Zealand last year, and she recently made her singing debut with him on the peppy track 'Tu Kheench Meri Photo' for the romantic film 'Sanam Teri Kasam'. Darshan Raval has also sung for Himesh on the albums Prem Ratan Dhan Payo (in the song 'Jab Tum Chaho') and also in the same duet with Akasa for Sanam Teri Kasam.
Going a step further, Himesh has given Darshan two solo love songs in his forthcoming home production film 'Teraa Surroor'. The songs 'Main Woh Chaand' and 'Bekhudi' both feature Darshan's vocals and are doing extremely well post release. We will also get to hear Rituraj on the song 'Adhuri Zindagi Hai' on the Teraa Surroor album. This song already features in the films trailer. The Voice India contestant Mona Bhatt, has also been performing with Himesh at various events.
In a recent interview with Radio and Music.com, Darshan shared his experience of working with Himesh and the support he has received. Darshan was asked how different was it singing for Teraa Surroor? He said "I am feeling blessed. I have worked in Bollywood projects before, but working in 'Teraa Surroor 2' is something new to me. I can say this is my first movie as a debut singer. Though I have sung 'Jab Tum Chaho' in the movie 'Prem Ratan Dhan Payo', it was just a small bit. Still, it means a lot to me, as I am a Salman Khan fan. Another song I did is a party song from the movie 'Sanam Teri Kasam'. The track is titled 'Kheech Meri Photo'. Finally, the songs, which are up from the movie 'Teraa Surroor 2', are what I call my forte. This is my comfortable zone."
He was then asked how does it feel to be singing for such a well established music director and now actor (Himesh) to which Darshan said "Oh, it feels very nice. The first time while going for the recording, I was really scared, I was nervous. However, much to my surprise Himesh came up as someone very amazing and helpful. Singing for Himesh's new film allows me to show my own identity as a solo singer. Until now, I was tagged as a contestant from a reality show or someone who sang just his own singles. I want to break that image completely and get to be known as a Bollywood singer. This is my first step in Bollywood."
He then spoke about the guidance he received from Himesh as a mentor "Yes, of course. He truly is a mentor and a guide to me. He treated me nicely. Working with him was damn comfortable and amazing. I have built up a nice bonding and rapport with Himesh. He never made me feel pressured. As I sing with all my emotions and with my own singing style, Himesh did not ask me to change it. Rather he let me portray my emotions through singing."
Teraa Surroor is definitely an album to look out for with lots of promising new talent.