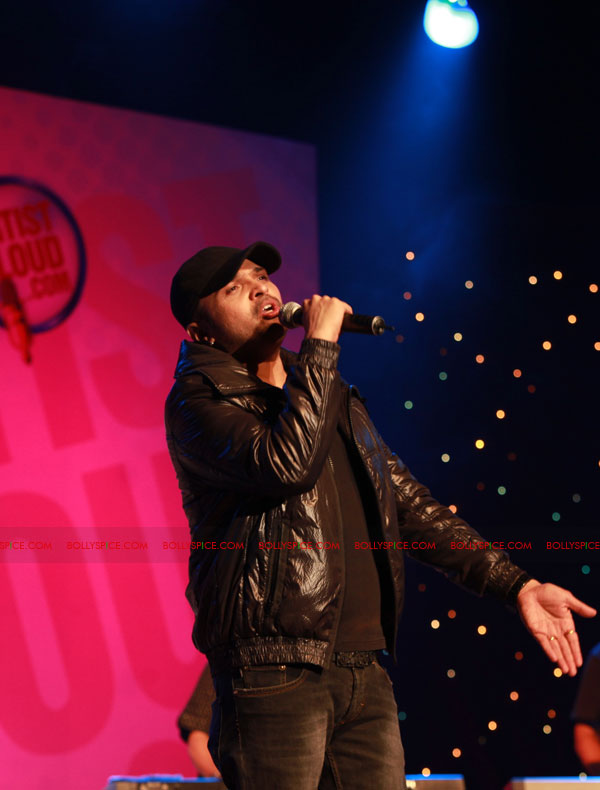 Himesh Reshammiya one of the most celebrated singers in Bollywood now goes online. On September 29th, Himesh reached out to his fans across the globe with his 'never seen before' performance through Nokia Smartnights Damadamm WebCert powered by ArtistAloud.com. This WebCert also marked his comeback to Bollywood and is sure to leave his fans mesmerized and wanting for more. WebCert which is a regular property of India's premiere digital music platform ArtistAloud.com streamed his performance live on ArtistAloud.com, Facebook.com, Youtube.com, Dailymotion.com and through Mobile from 4 pm to 5 pm on 29th September,2011.
This WebCert was the first unplugged performance by the multi talented singer-Himesh Reshammiya. Known for his unique voice modulations, this is the first time Himesh performed live for the web audience and that too with popular tracks from Bodyguard, Tere Naam, Aashiq Banaya Aapne and Damadamm. So today from 4pm to 5 pm everyone watched the live streaming of Himesh Reshammiya's WebCert right from the comfort of their home or office.
Himesh had his first success as a music director of the 2003 film, Tere Naam. After that, he composed music for the film, 'Aashiq Banaya Aapne' as a singer, and songs like 'Tera Suroor', 'Zara Jhoom Jhoom' and 'Tanhaiyan' went on to become hits. Already famous for his voice, he also started acting. His first film, Aap ka Suroor– The real love story was a success.
In the year 2011, he made a huge comeback with two chart-buster hit albums Bodyguard and Damadamm. With Damadamm, he introduced new singers, music band and other music directors where he jammed with Sachin Gupta. Through this WebCert, he re-created the Damadamm magic for all his web audience globally.
Speaking about his first WebCert, Himesh Reshammiya said, "Its just so cool to perform LIVE on web and to be able to reach thousands of people via internet. It is a new experience performing for the WebCert as i could interact with audiences on real time basis even when they were not in front of me. I want to thank ArtistAloud.com and Nokia for giving me such a wonderful platform."