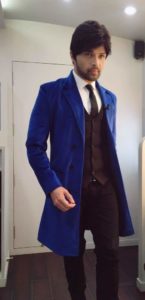 The sixth successful series of SaReGaMaPa Lil Champs, recently had its grand finale. Himesh Reshammiya was a popular judge on the show, he is now ready for his next reality show which will be the second series of The Voice India Kids. This show will air on AndTV in November.
Speaking to Pinkvilla, Himesh shared his thoughts about his forthcoming reality show and more "Voice Kids is very special to me, I was judging Sa Re Ga Ma Pa Lil Champs too and it's altogether a different feeling to be surrounded by kids and I really relived my childhood on Sa Re Ga Ma Pa, and now, I am very excited to judge Voice kids 2." He continues "Kids today are so talented and well informed, I too got launched by Salman Bhai in Pyar Kiya Toh Darna Kya when I was 14-15 and I thought of myself to be very talented but now when I see kids who are 7 years, 10 years and they sing so well and are so talented, I just feel good and they have complete knowledge about singing and it's nice to see kids perform so well. The best part about kids today is that they are very receptive and open to learning."
When asked about the children who wish to be on reality shows, but are unable to take part, Himesh said, "See the world today is digitalized and everybody who is interested in music or anything knows that it's very easy to connect to anyone online for auditions or anything, we try our best to reach out to as many kids as possible and through Voice Kids and Sa Re Ga Ma Pa Lil Champs we bring in a lot of talent."
Himesh is a firm believer in supporting new talents and he says that he will be launching the children from both reality shows soon. "I am personally going to be launching a few kids from Sa Re Ga Ma Pa Lil Champs and also from Voice Kids very soon. I have already launched quite a few contestants from the earlier seasons I hosted and all their songs are doing very well."
Himesh will be a coach on The Voice India Kids, alongside singers Shaan, Papon and Palak Muchhal. The show will air on AndTV on 11th November.
In association with Himesh-Reshammiya.com