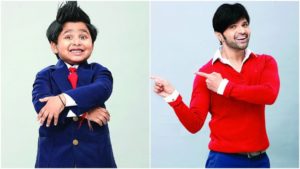 Zee TV's sixth series of SaReGaMaPa Lil Champs is almost ready to go on air on
25th February
, and from what has been filmed so far, we can already tell that the Lil Champs are truly special indeed!
The multi-talented Himesh Reshammiya recently revealed how fortunate he was to receive blessings from 5 year old Jayash Kumar who innocently gave his aashirwaad to mentor Himesh. Speaking to DNA Himesh said, "We were told that his (Jayash's) heart is on the right side and I was shocked because it is unusual. He sang the song ('Channa Mereya') brilliantly — there was a divine energy in him. Yes, I touched his feet but that was done in jest. And, he also innocently placed his hand on my head and blessed me."
On that particular day of shooting, Himesh was troubled with worry about his Father Vipin Reshammiya's pending knee surgery. Himesh continues, "My father is old, so I was putting it (the surgery) off. But the doctors told me that without the surgery, he won't be able to walk. That was running through my mind the entire day and I was praying for a solution. When Jayash blessed me, he said, 'Aapka kalyan hoga'. And, miraculously my father started recovering. The doctors have told him he doesn't need a surgery anymore and in the last 20-25 days he has started walking fine. You can call it a coincidence, but I believe there is some divine connection and it has to do with the innocent boy." Himesh is truly a believer in such miracles and we are happy that he received such innocent blessings when he needed them the most!
Catch Himesh Reshammiya, Neha Kakkar and Javed Ali as the judges on the brand new series of SaReGaMaPa Lil Champs on
25th February at 9pm
every
Saturday
and
Sunday
on Zee TV.
In association with Himesh-Reshammiya.com