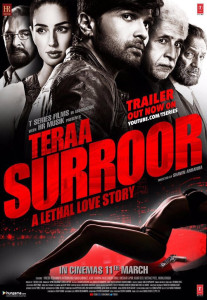 Teraa Surroor
Starring:  Himesh Reshammiya, Farah Karimaee, Kabir Bedi, Shekhar Kapoor, Monica Dogra,Shernaaz Patel
Directed by: Shawn Arranha
Rating: *** ½ (3 and a half stars)
Go with zero expectations and I promise you, Teraa Surroor will surprise you. More than anything else, it's a very good-looking film. And I don't mean the cast where admittedly, we have some suave, dapper and just plain interesting faces lending a gravitas to the Alistair MacLean brand of thrills, you know the sort where one smart-aleck played by the one and only Himesh Reshammiya takes on the entire police force of  Dublin and—guess what?—emerges a winner.
The plot, in case you haven't guessed by now, is a bit of a stretch. But it never tests your patience. And there is a very good reason for that. Director Shawn Arranha (who once upon time made a mall horror flick entitled Hide N Seek) never lets the momentum flag. The last 20 minutes is actually clocked on screen according to the time-limit set for the hero to rescue his sweetheart.
Arranha sustains the pace even when songs jump into the narrative with clockwork regularity.
But then Himesh and music go hand in hand. Playing the brooding assassin with a chip on his shoulder he has a song for every occasion in the script. And guess what? The songs fit!
Since the plot—and I don't know how much of it I should give out—is about a lovers' tiff and a crisis far away from home, Himesh's music focuses on the theme of judaai and dard. Wisely he doesn't sing all the songs himself.  Voices like Arjit bring variety to the soundtrack which is, elsewhere, replete with the sound of  screeching cars and cops shouting, 'Stop, or I'll shoot.'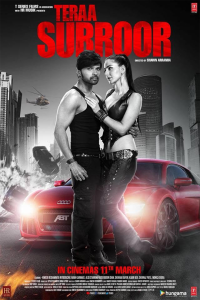 Teraa Surroor is not the best of thrillers. But it's sensible and sexy. And by that I don't mean unclothed female bodies. The city of Dublin is made to look inviting and intriguing. If only the actors, and that includes the male actors, didn't use so much makeup. It mars the natural beauty of the locations, captured by cameraman Maneesh Chandra Bhatt with touristic affection topped by some residential pride.
Himesh's well-toned physique goes well with a face that won't give anything away. He plays a dangerous assassin who is on the most lethal mission of his life: to save his love from danger. Lurking lusciously in the sinewy shadows are various assassins who often look more harmless than harmful. But that's okay. None of this is to be taken serious. Done in the spirit of fun, Teraa Surroor showcases Himesh's musical aptitudes and his penchant for playing poker-faced protagonists.
Wisely he surrounds himself with a terrific  supporting cast. Among the actors who prop up the thrills in the thriller I must make special mention of Shekhar Kapoor who as the India's ambassador to Ireland (yes, that's what he plays) delivers some outrageously undiplomatic lines. Watch him play this utterly iconoclastic diplomat with his tongue lodged in cheek and you'd know Shekhar got the film's mood right.
The other utterly endearing performance comes from Naseeruddin Shah as a jail-breaking expert named –get a load of this–Robin Dharmraj Santino. His prison-bound scenes with Himesh are pricelessly precocious. Naseer gives Himesh tips on how to rescue his sweetheart from jail. Along the way the thespian must have given Himesh tips on how to hold a scene together .
Himesh manages well. Though I didn't notice much chemistry between him and his co-star, the romantic portions are shot in the spirit of music videos with the lighting creating an illusion of luminosity even when the actors are not seen doing much to lift the mood of the melodies.
New find  Farah Karimaee is sometimes pretty, sometimes haggard, always over madeup even when languishing in prison.
As mentioned earlier, don't focus on the actress' manicured nails in jail. Just concentrate on the smooth surfaces where  the director plays rough mind games with a softness of touch that promises thrills but no real harm is done to anyone. Even when bullets pierce their chests the blood spills in choreographed spurts.
No harm can come to the people in this film. They are protected by a force greater than God.
Himesh's music.