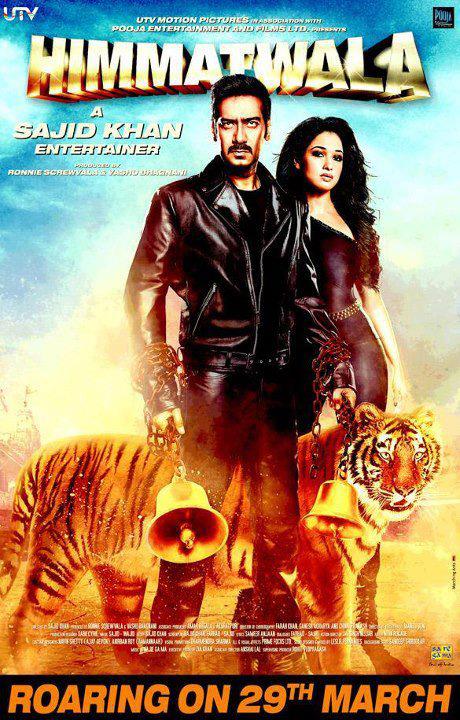 Himmatwala is an official remake of the 1983 release which had Jeetendra and Sridevi in the leading roles. Directed by Sajid Khan, this version stars Ajay Devgn and Tamannaah. The original, with the exception of the soundtrack, it should be asserted that the 1983 Himmatwala is by no means a classic and it contains a number of imperfections that make it a very average film overall. This remake has been updated for the new generation of cinemagoers, with the screenplay also being edited with new twists and thrills. Despite the remake containing many holes, it is still a modestly enjoyable film that will not disappoint you. Surprisingly, all together this latest version by Sajid Khan is stronger than the original Himmatwala.
The story is based on Ravi (Ajay Devgn), who returns to Ramnagar village after many years, where he reunites with his mother Savitri (Zarina Wahab) and sister Padma (Leena Jumani). Ravi is determined to eliminate the bad reputation his father acquired many years ago after being defamed by the vindictive Sher Singh Bandookwala (Mahesh Manjrekar). Rekha (Tamannaah), who is Sher Singh's daughter, is a spoilt brat who harasses people within the village. Ravi sets Rekha straight following a major incident and this ultimately results in her falling in love with him. Together, they work to teach Sher Singh a lesson and mend his ways for good. This is in addition to the twists and turns which occur as the film progresses.
Himmatwala has some silly and awkward moments which just make you want to cringe. This includes the comical re-enactment of the famous shower scene from Alfred Hitchcock's Psycho (1960). Yet that spice of entertainment is apparent in the film, which makes it a decent experience. It is a pure masala film that contains a little of everything; which includes action, romance, comedy and drama. Hence, if you enjoyed films like Dabangg (2010), then Himmatwala is certainly for you. Though some of the action sequences are far from perfect, it has been filmed very well and praise is due for the cinematography by Manoj Soni. The dramatic elements in the film have been well made and to some extent; they are stronger than the comedic elements. Sajid Khan should have corrected some of the blemishes that are visible in Himmatwala, which could have resulted in the film having a greater impact on us the viewers. Though it is a modestly entertaining film, whether it is re-watch material is indeed debatable.
Ajay Devgn provides a convincing and respectable performance as the male protagonist and was therefore the perfect choice to headline this film. He was far more entertaining to watch in Himmatwala compared to his last film Son of Sardaar (2012), which was a pure and utter dud. The film also has South Indian actress Tamannaah making her Bollywood debut as the female lead. However, she delivers a disappointing performance and was there largely as decoration. Sridevi played the role of Rekha far better compared to Tamaannah. She is a very beautiful woman and certainly has potential to go far within the film industry. Yet she made a bad decision in choosing this film as her official Bollywood debut. Zareena Wahab, Leena Jumani and Mahesh Manjrekar were good in their supporting roles, but by no means amazing. The person who steals the film is Paresh Rawal as Sher Singh's sidekick Narayandas. He was a delight to watch and makes you laugh out loud in a number of scenes. Paresh Rawal played this character far better than Kader Khan in the original Himmatwala. He gave his character the precise detail that was needed in order to provide a winning performance.
One thing Sajid Khan and the producers of this remake did not manage to transfer successfully from the original Himmatwala is the soundtrack. Music duo Sajid-Wajid has recreated the classic songs 'Nainon Mein Sapna' and 'Taki Taki,' which were originally composed by Bappi Lahiri. Yet they just do not have the same magic which the original versions do in terms of composition and picturization also. Moreover, there is the atrocious track 'Thank God It's Friday' where Sonakshi Sinha makes a guest appearance. This was pointlessly included in the film and could have been done without. Overall, the songs have no lasting appeal whatsoever and post-release; it is likely that they will be forgotten about.
To sum up, Himmatwala is not a perfect film, but it has that masala appeal that will certainly attract the masses rather than the classes. This film does not manage to successfully bring back the 1980s, yet there are many things about Himmatwala that make it a decent watch. Sajid Khan has not made any significant contribution to Indian cinema with this film. However, he has managed to create a film that is not a complete failure and is therefore worth a watch!