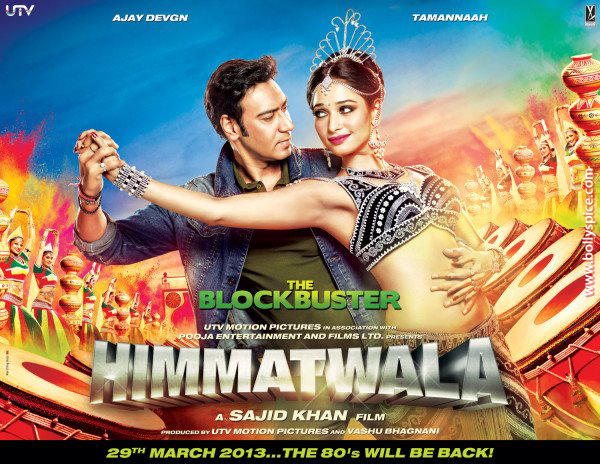 Firstly, I cannot convey my utmost excitement for Sajid Khan's remake of Himmatwala, whether it was the exciting promos that promised a more energized Ajay Devgn or Tamannah Bhatia making her Bollywood debut. However, I did approach with trepidation when the first promos of the iconic Nainon Mein Sapna, which seemed like a by-the-numbers recreation of the multicolored sets or the lack of dance moves in Devgn and Bhatia. Yet it was the music that hooked us all in from the addictive "Tha Thaiya Ta Thaiya ho" and that Sajid and Wajid hadn't added any overt flourishes to that iconic melody. This album is tons of fun, yet upon Khan's insistence that they not stray too far from the source material, Sajid and Wajid play it a little safe. What we can appreciate is the ambition of the songs by using artists from the Laximant Pyarelal, Bappi Lahiri orchestras to create an authentic sound that belongs to that 80s period.
Nainon Mein Sapna opens with the same sitar and expansive orchestra before launching into that irresistible chorus that you cannot help but jump up and start dancing. The song is precise to the original and is worth applauding for the scope and ambition of the instrumental interludes. Yet from the thumping tablas, to the main melody, Sajid and Wajid don't stray too far from the original, which makes it hard to find any of their own fun stamp on the song. Perhaps it's that the song's tempo has been sped up by a fraction is their evidence of their prowess on such a track. What a brilliant idea it was to rope in Amit Kumar, to pay tribute to his father Kishore's work on this track! Kumar sounds like a refreshing change from the more boyish voices we hear, now this is more of a hero's macho voice. He lends the song authenticity with his chemistry with our modern nightingale Shreya Ghosal, who is as ever reliable and excellent.  The lyrics are slightly update but keep most of the key lines intact. This song is energetic and a fitting tribute to the original, which shows that even a gregarious duo like Sajid and Wajid can be tamed.
In the other redo, Taki Taki, we can see how inspired Sajid and Wajid were when created the tabla melody for Rowdy Rathore's 'Chinta Ta Chita'. With Taki Taki, the similar beats are aligned throughout the chorus and the bridge. This one has more of the duo's stamp on it with their attention to melody and respectful homage to the original. They pick Mika and Shreya Ghosal to capture that flirtatiousness and chemistry of the original. Mika adds his usual swagger and charm to the track, which works nicely in updating this track as a chartbuster since Mika's voice is the perfect fit with his ribald delivery! Ghosal does much of the heavy lifting here in sounding original and energetic throughout this track. It is bound to draw comparisons to the Asha-Kishore duo, which is unavoidable, but this one gives us more of that Sajid and Wajid personality. Try this one out.
Dhoka Dhoka just asks you to gripe at the tackiness of the sounds that recall the villain's den and garish outfits on the backup dancers in these songs of yore, but you cannot help but admire Sajid and Wajid's adherence to rejuvenating the formulaic number. Khan asked the duo for a tune that captures that 80s sound, and they rise to challenge. From the electric guitar riffs to the bongos or the cheesy sax, it gave me a smile in recalling all these staples sounds that mark some of the songs we fast-forward through in those films these days. In the end, it is quite a middling song but it's got that retro charm that might win you over. Teaming up Munni and Sheila, Mamta Sharma and Sunidhi Chauhan was the icing on the cake as they take the inconsequential lyrics and have a riot with the song. They sound great together and there's no overt outdoing each other, as they get an equal opportunity to impress. The surprise entry of Bappi Lahiri in the latter half of the song is a nice little tribute to some of the songs that this tune is no doubt inspired by. He adds that innate Bappi gravitas to the song. Give this one a try or skip it if you can't handle the memories flooding back!
One of the complete duds is Bum Pe Laat, a kiddie's song that makes you cringe in spite of its situational appeal. Whether it's the loud drums, and cartoon boings, crashes, and whooshes, it makes you want those 2minutes and 44 seconds back! Even if the wonderful Shaan gives the song all his energy and style to this track, it just sounds like a cacophony that is way to syrupy sweet. Skip this for sure!
One of the better examples of how to do an original tribute to the 80s is with Sachin and Jigar guest appearance in Thank God It's Friday. Sonakshi Sinha will be doing a disco number to this track, and it's a fitting tribute to the 'Krishna Dharti Pe Aaja Tu' or the 'Rambha Ho' of that era. From the pulsating drums to the violins in the chorus, this song is such fun and gets you grooving and puts a grin on your face. The lyrics are quite terrible with the Hinglish, but if you can tolerate that then just the savour the Boney M and Bappi touches in the instrumental interludes. Sunidhi Chauhan is reliably fun and gives the song that extra edge. Try this one out.
I'm in two minds about this soundtrack, as I do like Sajid and Wajid's original compositions for their more masala films however in adhering respectfully around this iconic film it feels that they've been tamed too much. But that could be a good thing in that their technical finesse and ambition was on point and they made crafted expert recreations of these songs. In that sense, Himmatwala is a bit weak in offering any personal touches to these iconic songs. However, it is a noble attempt that will no doubt be chartbusters upon their release.