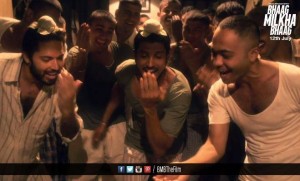 A right wing Hindu organisation is not happy with a song in the film Bhaag Milkha Bhaag and has demanded its removal. According to this group, the song 'Havan karenge' is 'denigratory' to Hinduism since 'Havan' is holy word.
Hindu Janajagruti Samiti(HJS) have submitted their objection to Chief Minister Manohar Parrikar demanding the song to be dropped from the film.
The organisation said that now that Bhaag Milkha Bhaag has been made tax free in Goa for 3 months, it is like rubbing salts on the community's wounds. "Also, when the state is lacking funds due to closing of mining and is earning revenues through means like casinos, there will be revenue loss if the movie is not taxed. Promoting movie with this denigratory song is simply stating encouragement from the Government's side to allow defamation of the Hindu religion," added the organisation.