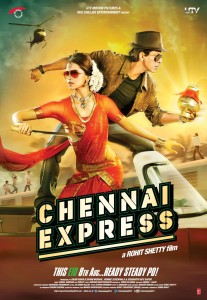 Here's a cool thing for our US and Canadian readers you can now rent the biggest hit of the year Chennai Express from the iTunes store! Yes, you can bring Shah Rukh Khan and Deepika Padukone to your TV or computer. If you love the film you can also buy the movie as well.
Describing the film, iTunes says: Chennai Express is a story of Rahul (Shahrukh Khan) who embarks on a journey to Tamil Nadu. He goes there to fulfill the last wish of his grandfather to have his ashes immersed in the Holy water of Rameshwaram. He meets a gorgeous Tamilian girl (Deepika as Meena) who has been running away from a posse of fat sickle wielding goons. As the goons manage to catch them, a series of chaotic hide-and-seek games occur. In the bargain they both fall in love. Rahul manages to win the battle and marries Deepika, the twist that changed Rahul's life forever.
So check it out here or search on iTunes!
Of course there are many more Bollywood films available for rent and to buy so check them out! https://itunes.apple.com/us/genre/movies-bollywood/id4431