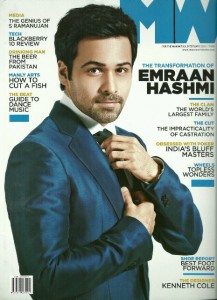 Emraan Hashmi, who recently featured on the cover of Man's World Magazine, dressed in a suave and dapper suit, talks about not treating life as a cakewalk and opposing the stereotypical Hollywood hero.
In an exclusive interview with Indo-French writer Olivier Lafont, who uncovers the mind behind the successful "Hitman Hashmi" brand – part of the elusive and exclusive 100-crore club, Emraan spills the beans on his favorite stars of all time and what it feels like to create a unique space for himself.
Emraan Hashmi talks about his mentors, choice of films, journey to stardom and everything in between.
Hashmi said, "I've tried time and again to challenge myself, to go off the beaten path. For example, I like to do a typical Emraan Hashmi film, but I also like to do something different. I like niche and art-house films and I've tried to make them work commercially, even though people have told me I should only do commercial films. I break the rules of what people feel I should be doing".
Emraan Hashmi recently walked the red carpet at the Berlin Film Festival and will be seen next in Ek Thi Daaiyan.