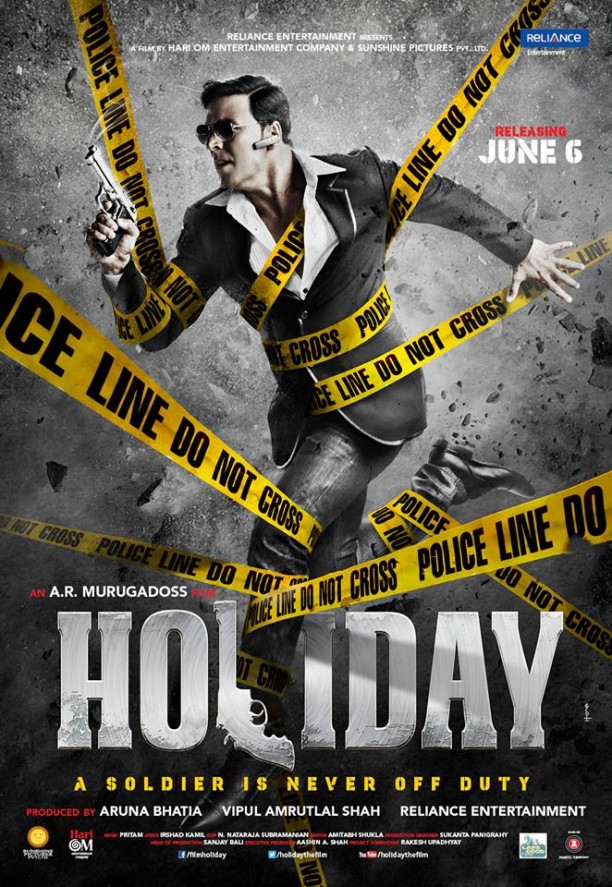 Holiday is an upcoming massy film starring Akshay Kumar and Sonakshi Sinha in the leading roles. Directed by A. R. Murugadoss, Holiday is a remake of the Tamil action film Thuppakki and is scheduled for cinematic release on 6 June 2014. The music has been composed by the supercool Pritam, who clearly needs no introduction. The lyrics have been penned by Irshad Kamil, who has written songs for albums such as Aashiqui 2 (2013) and Raanjhanaa (2013). So does Holiday have anything good about it that makes it worth listening? Read on to find out!
First up we have Aaj Dil Shayarana performed by the talented Arijit Singh. I like how the song starts off, with the nice use of the harmonium. This is then followed up with some nice vocals from Arijit which flows well throughout. Though the song is somewhat cheesy, I still think it is respectably catchy and will appeal to the masses.
Next we have Tu Hi Toh Hai, which has been sung by Kunal Ganjawala. Though I like some of the techno elements in this song, as well as Kunal's voice; that's pretty much about it. The song overall is lacklustre and forgetful and I don't think it will have much of an impact. There is also a second version sung by the great Benny Dayal which has nothing different about it other than a change in singers. Thus, do yourselves a favour and skip this one.
Following this we have Ashq Na Ho, sung by Arijit Singh. Though Arijit does his very best to work with what he has been given, I found this to be another dull highlight of the album. Though it has a melancholic theme to it, it just did not appeal to me and I eventually found my mind drifting off to someplace else.
Next is Blame the Night, by Arijit Singh, Aditi Singh Sharma and Piyush Kapoor. The song has a club theme to it and contains a mix of techno elements, bass and vocals which have been fiddled with by mixers. Again, it is dreary to listen to and I just wanted to press the skip button mid-way through the song. Though Aditi is the standout vocalist in this one, the song sadly does not have that 'wow' factor to it.
Finally we have Palang Tod, which has been performed by Mika Singh and Ritu Pathak. Though the composition is somewhat in between, I think the main attraction is Mika and Ritu's vocals, which give the song a delightful Punjabi touch to it. There is also a second version of this song, which is nowhere near as good as the original version.
To sum up, I was very dissatisfied with the soundtrack to Holiday. With the exception of a few songs, the rest are just forgetful and deprived of the good sounds which it deserved. It's a shame as I had some hope of the album being one of the major highlights of 2014.