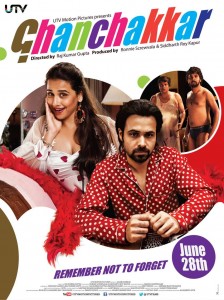 "Bollywood is big," says Polly Morgan, the Hollywood cinematographer who is in India to direct music videos for UTV Motion Pictures' Ghanchakkar. Morgan, a Hollywood cinematographer critically acclaimed for her films Inception, Hairspray, V for Vendetta and Head In The Clouds among others, shot two music videos for the Emraan Hashmi-Vidya Balan starrer.
Asked why she took on the project, she said, "When I heard the concept of the shoot, I really liked it. I have heard that Bollywood is really big, and it seemed like a nice opportunity to experience what working in the industry feels like. I had seen the work of Emraan and Vidya before I came and it was really exciting to work with the superstars of Bollywood."
From what she knows, Polly is all praise for the Indian him industry. She commented, "Bollywood has made its presence felt in the west. The industry is the biggest in volume of production and ticket sales. I love Indian movies — from gritty films to grand song-and-dance sequences, Bollywood has something for everyone. No wonder the films are so successfully even in the west."
Asked about the difference in working style of Bollywood and Hollywood actors, she added, "I found Emraan and Vidya to be thorough professionals just like any Hollywood actor. They are fantastic to work with. They are very talented, so shooting with them was very smooth. I loved every bit of shooting the two music videos with them. I am really looking forward to seeing the reaction from the audiences."
Set to release on June 28th, Ghanchakkar is a crazy, quirky rollercoaster suspense ride that will surprise, shock and entertain you at every turn. When Sanjay (Emraan Hashmi), a suave, master safe cracker wants to retire from a career in crime, he decides to team up with two dangerous criminals to commit one last heist. A bank robbery that will ensure that he never has to worry about money again. Everything goes according to plan – in the wee hours of the morning, a bank vault is broken into and emptied of its contents of 350 million rupees. Sanjay is given the task of hiding the money till things cool down. Two months later Sanjay's associates return to collect their share of the loot, but to their horror discover that Sanjay has lost his memory in an accident. Is he pretending? Or does he really have no recollection of the robbery and where the money is hidden? Will he be able to find the stash before a bullet finds him?