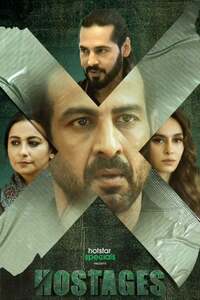 Hostages 2(Disney-Hotstar)
Starring Ronit Bose Roy, Divya Dutta
Directed by Sachin Krishn, Series Director Sudhir Mishra
It is amazing how far Hostages 2 stretches its wings without the fear of flying.The second season builds on the frenzy of the first ,keeping alive the faith and the tumult by powering and peppering the plot with a serpentine cue of surprise and shocks that take us through a startling labyrinth of conception deception and denouement.
This time the ever-dependable Ronit Bose Roy is on the opposite end of the hostage situation , Holed up in an ancient bungalow which has seen better days, Ronit's Prithvi Singh and his associates hold the chief minister(Dalip Tahill, who somehow doesn't look the part) hostage while the negotiators outside include a thoughtful Divya Dutt and a blustering Kanwaljeet and an Adil Hussain lookalike(Sachin Kurrana) .
Both the parties are surrounded by a plethora of characters all well played by actors who know their job. It would be unfair to single out performances in an action-driven show such as this.But the interesting additions to the original lineup include Dino Morea, somersaulting from his lover-boy image as a coldblooded assassin, and Danish Hussain whom we recently saw as a tolerant secular Muslim patriarch in Mee Raqsam flips to the other side to play a shartpshooter. Shweta Prasad Basu as the hard-nosed journalist(why so my f words in her dialogues?) seems to be encoring her Tashkent Files role. Shibani Dandekar has nothing much to do which she does well.(It is an art to look useful when you are not).
From the regular cast, Ronit and Divya are as usual firstrate and Ashim Gulati a spitting image of Aditya Roy Kapur and Suraj Sharma(who joins in at the fag-end) stand out.
The series running into 12 gripping episodes is populated with enough characters to fill a small village in Bihar. Weaving in and out of the hot plot the director holds a firm grip over the goings-on, loosening his grip only long enough for the characters to breathe when essential.
If you are looking for a long and satisfying binge-worthy series, stop right here. Hostages 2 will hold your attention hostage for hours. The twists and turns never stop.