Bollywood fitness fanatic, John Abraham, who plays a renegade cop in Nishikant Kamat's stylised thriller FORCE, releasing on 30th September, has bared his exclusive fitness mantra to his worldwide fan following!
The epitome of a body building idol, John may have been at his beefiest best in Dostana but for Aashayein he had to lose over 12 kilos. And for the upcoming blockbuster FORCE in which he stars opposite screen beauty Genelia D'Souza, he has magnificently shaped up his 8-pack abs physique. So how does the actor deal with this change in look for each film role? In FORCE, audiences will witness the screen hunk more muscled than ever before. Forget a 6-pack, he's boasting an 8-pack, and every gym member now wants to emulate the to-die-for look.
Anyone who has seen John's body will know that it is a physique developed through hard work and discipline. The actor says that he considers going to the gym a necessity and part of his routine. He follows a committed gym regimen and a strict dietary code. By working hard on his body, he today understands his body extremely well and how it will respond.
For those who want to achieve his look, he advises that there are no short cuts to success and there is no alternative to working out. "The use of unnatural substances is unacceptable to get a body. It leads to hair loss, high blood pressure, mood swings, loss of libido and enlarged glands. Stay away from the short cuts", John warns his fans.
On being a male fitness icon, he says, "A lot of us have a benchmark for how well-toned we must be. I had a very high benchmark. I'm a leader, not a follower. Not that I am always seeing sunshine up my backside. But I'm very individualistic."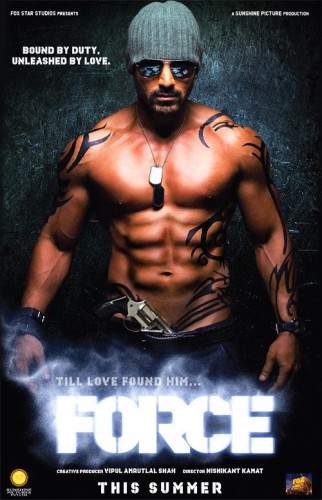 For all perfect abs aficionados, here is exclusive access to John's personal diet and fitness regime to get the FORCE look:
Diet
Breakfast
If you think that in order to remain in shape you have to starve and keep off food, you are mistaken. John's diet shows us that he believes in helping himself to a heavy breakfast. His average breakfast consists of six egg whites, a glass of fruit juice, a couple of slices of toast with butter and ten almonds. John loves his tea and has at least two cups of tea every day.
Lesson: Having a heavy breakfast ensures that you have enough energy to sustain you through the day and makes sure you are full for some time and do not binge during the meals.
Small Meals
John also confesses of continuously munching on something, but he ensures that it is light and healthy. For the kind of action and work he does, he needs to refuel his system every couple of hours.
Lesson: When you are active, it is okay to munch on something in order to give you enough energy and keep your metabolism active.
Lunch
Unlike other celebrities who only have exotic and expensive meals, John has a traditional, simple fare. For lunch, he takes chapatti made of wheat flour, yellow dal, spinach and some stir fried vegetables.
Lesson: Rather than looking for how many calories you get from your meals, look at the nutritive value of what you are eating. You also do not have to consume only expensive diet food in order to stay healthy.
Pre and Post Workout
John has some light snacks and protein shakes in the evening, and after his workout he indulges in a light meal like corn, some soups and a vegetarian supper.
Lesson: You need to adequately fuel your body if you expect it to work for you. A nutritious snack at the end of the workout is a must.
Vegetarian at Heart
Born to a Keralite father and a Parsi mother, John has been a non vegetarian before but is now an avowed vegetarian. He is one of the long time supporters of PETA (People for Ethical Treatment of Animals) and has shot campaigns against cruelty to animals and in support of vegetarianism. To supplement his diet that lacks protein in comparison with a non vegetarian diet, he depends on protein shakes.
John feels fitness is like a tripod stand; it has three legs – good food, good sleep and good routine. John also believes in working hard to stay in shape, and not taking any short cuts. He has never indulged in growth hormones or steroids and warns others against them too.
John is also of the belief that fad diets or crash diets don't work; what works is burning calories, not controlling them.
His message to his fans is to eat right and eat well. He also adds that starving will only make you bloat up so eating right is essential.
Witness John's incredible 8-pack physique for yourself when Force releases in cinemas in the UK and worldwide on 30th September 2011 through Twentieth Century Fox.