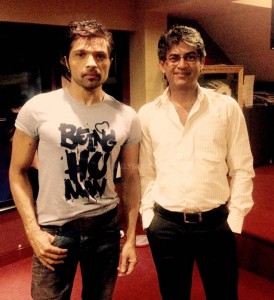 The Bollywood music industry is extremely vast when it comes to musical genres, singers and musicians. The online platform artistaloud.com, specialises in promoting and welcoming all kinds of musicians, and they have recently launched their own music awards event for the year 2014.
Music Director, Singer, Actor and Producer Himesh Reshammiya is well known for his support and encouragement of new talent within the music industry. Having appeared as a judge on several musical reality shows (such as SRGMP 2005/2007/2009, Music Ka Maha Muaqbla, Surkshetra and more recently India's RAWstar) Himesh's own music publishing company HR Musik, which supports a host of new talent, is proudly supporting the Artist Aloud Music Awards 2014. Himesh will be one of 12 celebrities who will present the winners with their awards. HR Musik's CEO Andy Singh, features as one of the main jury members of this prestigious online event.
We recently spoke to Andy Singh, who shared his thoughts about the event with us "I am excited on being a jury member with the awards and eagerly awaiting to hear the nominated independent artists. I personally feel Artist Aloud is doing a great job to promote independent music and artists. Hosting the awards is a step forward promote independent music."
If you truly love listening to all the genres of Bollywood music, head over to http://www.artistaloud.com/aama have a listen to the artists and don't forget to submit your vote!
Stay tuned we will have more about these cool music awards coming up soon!
In association with www.himesh-reshammiya.com