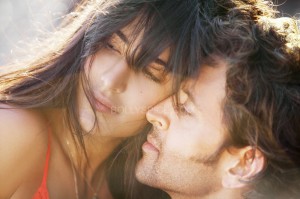 Much to fans' excitement and the cries of 'Oh no that it is to long', we reported last week that we have a release date of October 2nd, 2014 for Bang Bang, the Knight and Day remake, starring Hrithik Roshan and Katrina Kaif.
As you know, shooting for the third schedule of the Siddharth Anand directed action film had to be postponed due to star Hrithik Roshan's recovery after brain surgery. But now he is gearing up and getting ready to hit his mark again!
The director explains that once the promotions for Krrish 3 come to an end, Hrithik and Katrina will be back in action. "Hrithik is raring to go and his enthusiasm is infectious. But his home production Krrish 3's release (on November 4) is around the same time and he will be fully involved with its promotions. So we decided to start the third schedule of Bang Bang in mid-November."
Hrithik can't wait, "I am doubly charged and looking forward to resuming my amazing journey with the team of Bang Bang from mid November."
He adds, "We promise to give our best to making the film one of the finest ever."
Stay tuned we will be bringing you more about this exciting film!