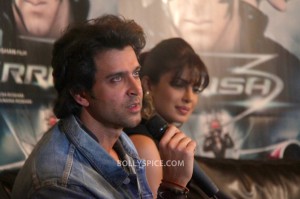 Hrithik Roshan and Priyanka Chopra were in London this week to promote their up and coming film Krrish 3. There were around to meet the U.K press, greet fans at Feltham cinema, visit the Apple store in central London and give a host of special interviews, which include our favourites Raj and Pablo.
Krrish 3 is the continuation of Rohit and Krishna's journey from the previous installments. From the super successful promo's of the film, we all know that this is a superhero film, but Hrithik also emphasised the importance of Rohit's role, he shared "In Krrish 3, for me the biggest challenge was revisiting my character of Koi mil gaya, the mentally challenged Rohit…it had been about eight years since I had played that part and in that time you grow…so I had to find that voice and body language again."
Priyanka was also super charged about reprising her role, she said "When I played Priya in Krrish 2, it was a love interest which was new, where I tried to trick him into using his super powers. With Krrish 3, there is strange double edged sword which my character has, which you won't expect. The character that I play has so much more to do in Krrish 3, that it made it a fantastic part for me to play again."
Watch this space for BollySpice's interview and video with Hrithik Roshan and Priyanka Chopra.