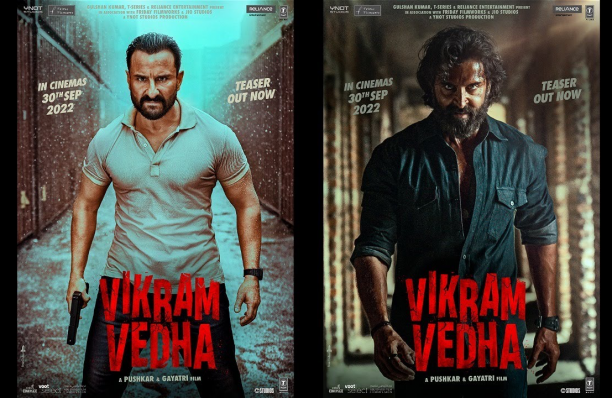 We have your first look into Saif Ali Khan and Hrithik Roshan in Vikram Vedha and it is INTENSE!
Vikram Vedha is a remake of Pushkar-Gayathri's 2017 Tamil movie of the same name and they are once again directing this version. Vikram Vedha, is a noir action-thriller showcasing the face-off between a tough cop Vikram (Saif Ali Khan) and a dreaded gangster Vedha (Hrithik Roshan). The film underlines 'between Good & Evil, what you choose, defines you'!
Hrithik looking as dark and menacing even a bit mad and Saif looking tough and sure, this battle is going to have you on the edge of your seats!
Check out this first look teaser, it is powerful and makes us say: We absolutely cannot wait to see Vikram Vedha on September 30th!