When he got an email, which read Hrithik Roshan is looking for the next dancing star, It only took him a second to decide he had to participate in this show. And as they say, the rest is history.
Karan Pangali is that 24 year old choreographer/performer from London, who last year shocked everybody with an outstanding audition for the reality show Just Dance.
Karan went to Mumbai and changed the dance scene with his unique approach to Indian classical dance. He was in Holland on 21st of April to perform and Holland correspondent Charla Manohar talked to him just before he went on to stage.
Hi Karan. Have you ever been to Holland before?
I have been here a couple of times as my mom's sister lives here. But this is the first time I am coming here to perform.
So how have you been after Just Dance?
It had propelled me into, it has shown me the world of celebrity culture. I got a glimpse of stardom, it's been a rollercoaster ride in a very positive way. It's been a real life changing experience.
How did this change your life?
On a professional level: Things have definitely propelled. Whatever I did before it has doubled.
On a more personal level, I turned 24 two weeks ago, on the 16th of April, and I have never received so many presents in my life. That about sums up what Just Dance has done for me as a person. I got so many letters, personalized message cards, love notes, Love messages through the post. It feels great to receive so much love.
There was also an article about your parents getting proposals after your appearance in Just Dance….
(laughs shyly) My parents did get a few proposals when I was on the show, which is quite interesting and funny. But I wouldn't be here if it wasn't for that support and I am very grateful to my fans all over the world who supported me during Just Dance. They have made me who I am today. So all love to them.
What made you decide to participate in a talent show in India and not just one in the UK?
Hrithik Roshan. I got an email saying: Hrithik Roshan is looking for the next dancing star. It only took me one second to realize that I am going to be part of this. He has been a big inspiration. He has sort of changed the male dance persona when it comes to Bollywood. In his first film, he just brought a new energy, a new style to the dance and made people go: WOW! I want to dance like that. So he encouraged a lot of male dancers to get involved in that and work hard, like me.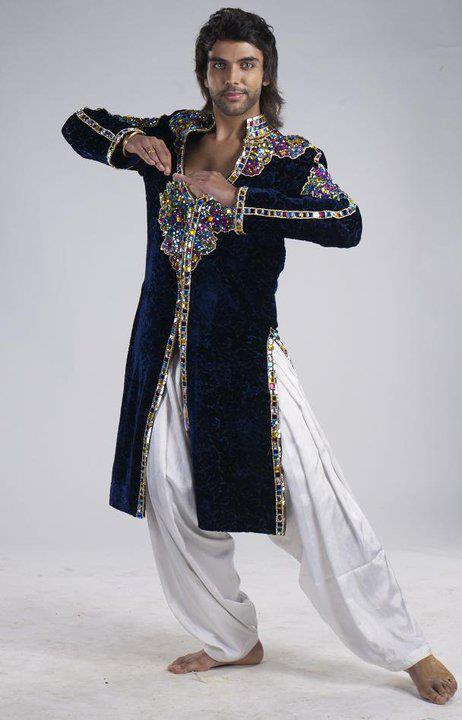 Weren't you really disappointed that he was not present at your audition?
Yes I was. I was so annoyed. But then you know what, when I found out Farah and Vaibhavi were there… These are two people whose work I love, so it was great to perform in front of them. And to get the comments that they gave me…
I was the last person that day to audition in front of them. I had to wait for ten hours. And you see all these dancers get kicked out. And they'll say it straight away, you are in or you are out. So it was nerve wrecking. I couldn't eat, I was so nervous. And after my performance when they said: we are not giving you the certificate, I was in shock. My heart just stopped and then they said you are going straight to India. My heart just sank and I couldn't believe it.
What did you do before Just Dance?
I have been teaching dance since I was 16th. After my A-levels I decided to make dance my full time career. I launched my company KSPARK Entertainment and then I created a dance group and we did shows across the UK and Europe. And then I started my own dancing school where I teach kids from as young as three to adults. My eldest student was 67. I teach around 300 students and do that on a weekly basis. That was what I was doing for a number of years, before Just Dance.
Did you have any formal training in dance?
I started with some local Bollywood dance groups in London. Then I learned Western dance forms, like street dance, hip hop, salsa and even ballroom dancing from Pineapple Dance Studio. After that I started to think, I really liked both styles, why don't we put them together? So I combined my Bollywood training with my western training and that is what created KSPARK, which is a fusion.
You had a performance in the finale of Just Dance, where there were three of you and you danced Indian Classical on 'Khalbali', which was awesome. The performance grabs you and you just want to keep watching. It was new in the way it was presented. How do you come up with new things?
Thank you! As a performer that is a constant challenge. Because once someone has seen you perform, then it's your task, if that same person will see you perform again, to re-innovate yourself.  It's a constant process. Once I do one show, I'll try to re-innovate myself for the next show. And I think that is something very unique about my mentality.
Every show that I do with KSPARK, I try to be different in it. You won't see me doing the same thing for five years. Like what I am doing now, and what I did back in 2000 or five years ago, is completely different. I have, of course, grown as a dancer, but it's something I like to do, come up with new ideas as a performer and choreographer.
All the stuff that I do in my group I choreograph myself, even the girls stuff. I get a connection to the music. It's really challenging process to be a choreographer and a performer. But it is definitely very rewarding when I hear the comments I get. I think the styles I have learned is what makes it watchable, like for instance Kathak.
People see a lot of Kathak, but the way I do it is different. It makes people think, they see it and think that looks like Kathak, but that is not from Kathak. What am I seeing here? I think that the result of me learning so many different versatile dancestyles.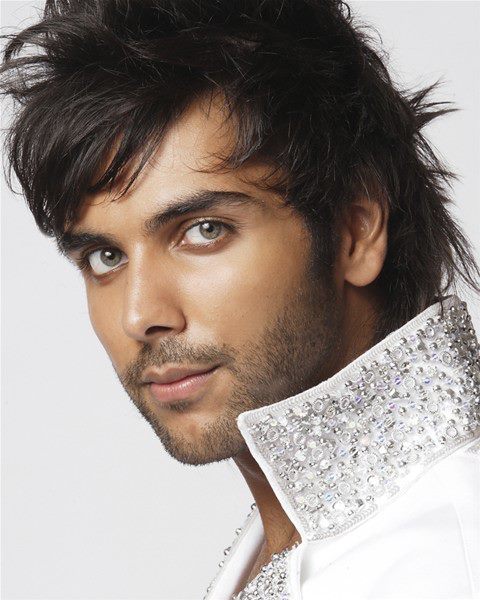 And what about your classical training?
I started with Gurukul Pratap Pawar. And he is Birju Maharaj first disciple. And he actually lives in London, which is great for me as I also live in London. I saw him perform on stage and it was the first time that I saw a man do Kathak in a manly way. I was blown away by his footwork. I was like wow! That's like the Indian version of tapdance. Kathak is the Indian form of tapdance, but then without the shoes. So I was like: I have been doing Bollywood for so many years, and I didn't even know my origins, from where Indian classical dance came from. That really inspired me to learn Kathak, so I learned from him, my first Guru. He is amazing. Then Maharajji came to do a one-week workshop from Delhi, where he lives. He taught me so much about expressions in Kathak.
Isn't Kathak really difficult to learn?
You know what…to start with it is pretty easy. Once you start from there on it's the hardest. In my opinion it's the most challenging classical Indian art form.
Did it make it easier for you to learn Kathak as you had learned other dance styles before you started with Kathak?
Yes. Definitely. People usually say that starting with Indian classical dance is good as it gives you the rhythm, posture and all of that and then learn the other things, but I did it the reverse way. I started with the commercial stuff, filmy dance, and actually only in the last 4 years have I started taking Kathak seriously.
There is a certain structure. There are set positions, which you have to remain. Fingers must be kept together, thumbs must remain in, and they can't be out. So there are a lot of rules, which I think, as a dancer makes you very disciplined. And I am a perfectionist. When I perform on stage, even with my dancers I am such a perfectionist. They will tell you about that, if you ask them. But it pays off because people say your dancers are not Indian, but they dance Kathak on stage. And when they dance people wonder where they are from. Is she from India or not? And I actually teach them Hindi as well, so their mime is right. They all know the words to songs like 'Teri Ore' and 'Sheila ki Jawaani'.
I have often heard that choreographers either come up with a certain choreography by listening to the lyrics and then the music or reversed? How do you work?
The first thing that grabs me is the music. It has to be the music. It either ticks the box or it doesn't. I know it from the first 30 sec whether I want to choreograph it. I have a vision. I always have a vision and when I hear music I see myself performing. As soon as I hear a track I know if I am going to be performing or not. I have to be inspired by the music.
Who is your favorite dancer?
I grew up watching Madhuri and Sridevi. I loved the power they have over dance. Then Shah Rukh Khan. He may not be the world's greatest dancer, but he has a lot of energy and I love the grandness of Bollywood. You know from the 90's with hundreds of dancers. I just love that. Also Prabhu Deva for sure. Muqabala. Gotta love that! And of course Michael Jackson. Here is your Kathak dancer who knows the moonwalk. And of course Hrithik Roshan.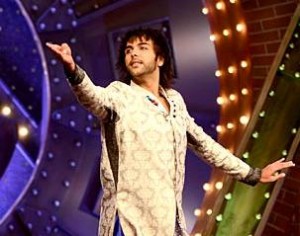 Do you look at Bollywood? Would you like to choreograph for Bollywood movies?
I love the music that Bollywood produces. In my opinion, the music that comes out of our Bollywood industry is comparable to none. It's stunning. And what sometimes upsets me is when I watch a film and the music is so good but then the dancing doesn't live up to the expectation. That does often let me down. And recently, I feel a lot of actors and actresses are not putting in enough effort and time into learning dance. I don't think in our generation now that we have a Madhuri. We don't have someone who is trained as a dancer and as an actress. You know, Madhuri went and learned classical dance, I am waiting to see that. If I could get a chance to bring that back to Bollywood then I would love to, yeah.
Have you got any offers?
I have got a lot of offers since the show. But I haven't taken up any, as someone told me that your first film is very important to get it right. And the scripts that I have read so far are a bit cheesy(smiles). Not really my cup of tea. I am waiting for a script where I get that feeling; this is what I want to do. Just like choreographing, when I hear music yes, I want to choreograph that. The same goes for a script. I haven't read a script yet of which I am passionate about. I am still waiting.
But don't you think like… ok this script might have it's flaws but I can impress with my choreography if the music is good
You could have a great dance definitely, but when the story is not good, it will be a flop (laughs).
And what about acting?
Yes, also as an actor you also have to be passionate about the story as well. But I am also open to acting, I love acting. When all those elements come together, dance, music, script, I'll do a film.
So what can we expect from you in the future?
I have got my own theatre production coming up on the 5th and 6th of May called Dance of Bollywood. We will be showcasing 70 years of Bollywood dance. People will get to see a fusion of Indian Classical, Salsa, Hip-Hop, Bhangra and Contemporary dance as well as pure, traditional Kathak. So I am really excited about that.
Do you have any advice for people who want to become dancers and chase their dreams?
Try to get training. If you love Bollywood, come to my schools if you are in London (laughs). We train people to become professional dancers. A lot of dancers started as students. And basically just work hard as perfect practice makes perfect.