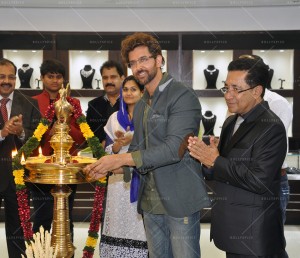 Globally renowned jewellery retail chain, Joyalukkas further strengthened its presence in Mumbai with the launch of 2 new showrooms at Mulund and Vashi today. Joyalukkas Jewellery Brand Ambassador, Superstar Hrithik Roshan inaugurated the showrooms in the presence of several other esteemed dignitaries. The Mulund showroom was inaugurated by Bollywood heartthrob, Hrithik Roshan at 11 am in the presence of Mr. Joy Alukkas, Chairman of Joyalukkas, and other honorary personalities of the city followed by the launch at Vashi later in the evening at 5pm.
"As one of the world's most loved jewellery brands, we have always believed in optimizing our customer service by offering the best in terms of quality and designs. Mumbai is a buzzing city of commerce and fashion and we are confident that our international experience will help us serve this city with the latest trends in jewellery from around the world. Currently, we are on a well planned expansion mode to take the brand and its offerings to a greater audience. The launch of two new showrooms in Mumbai is in line with our core objective to become a 100 jewellery showroom chain across 10 countries by March 2014." said Mr. Joy Alukkas, Chairman & M.D, Joyalukkas Group.
Both showrooms in, Mulund and Vashi (Navi Mumbai), will follow the signature Joyalukkas large format designs and will be home to over 1 million designs across a range of jewellery forms such as gold, diamond, precious stones, polki  platinum and pearl jewellery. The showrooms will offer the same service excellence that is resonant with the Joyalukkas name on a global level along with best prices, superior quality of finished product and the popular CPT (clear price tag), allowing customers to fully understand the value and exact details of the jewellery that they are purchasing.
"Joyalukkas is a global brand with a customer base of over 10 million people worldwide. Additionally, Joyalukkas Jewellery offers consumers the world's biggest choice of exquisite jewellery designs from around the world, created by expert award winning craftsmen.  I am very proud to represent this superbrand on a global level. The brand stands for choice, latest trends, convenience, value and trust and it is this dedication that has helped them become one of the largest jewellery retail chain" said Bollywood icon and Joyalukkas brand ambassador Hrithik Roshan on the occasion of the launch.
With 91 showrooms spread across 10 countries the two new showrooms in Mumbai will take the Dubai-based, Joyalukkas's tally to 3 showrooms in Mumbai in addition to the already operational outlet at Turner Rd., Bandra. The Joyalukkas Group, is today a multi-billion dollar global conglomerate that has rapidly expanded its footprint all over the globe ever since its inception 25 years ago. Known for its intricate jewellery designs that attract a plethora of customers across its retail showrooms in 10 countries, the Group's jewellery business is one of the fastest growing retail chains in the world.
Store opening in Mulund

This slideshow requires JavaScript.
Store opening in Vashi

This slideshow requires JavaScript.