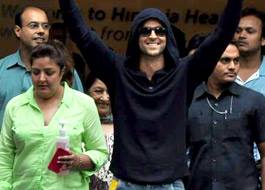 Hrithik Roshan, who just underwent a brain surgery and was recently released from the hospital, has been advised bed rest for 3-4 weeks and some stars are making him very happy.
Dharmendra heard about Hrithik's surgery and called him up to check on his health.
Although Hrithik was not immediately allowed to attend any calls after his recent brain surgery, once he got his phone the first call he received was from the Dharamji. Hrithik has been a huge fan of the senior actor.
Dharamji asked the Krrish actor about his surgery and has adviced him to be careful while performing stunts in the future.
Hrithik, who had a poster of Dharamji in his wardrobe when he was a kid, was so excited that he ended up calling everyone and telling them about the call he received.
Plus, Karan Johar is also working to make Hrithik's rest after surgery more comfortable. Hrithik has always seen all Karan Johar films except his recent production Yeh Jawaani Hai Deewani.
Hrithik had met the director of the film Ayan Mukherji at a recording studio where he told him that he loved whatever he had seen of the film.
Ayan and Karan tried to keep a special screening for Hrithik but somehow it did not work out as he was out of the county.
Now to make up for that, Karan Johar is going to gift Hrithik a Personalized watermarked DVD of the film.
The actor and producer will soon be collaborating again on Karan Malhotra's Shuddi!