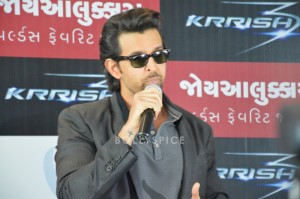 Hrithik Roshan was in Ahmedabad recently for the inauguration of a jewelry showroom. Clad in semi casual clothes, he attended a press conference and we have this special report!
When Hrithik Roshan walks in to the room the energy changes. Then watching him speak and inspire everyone with his experiences, it's hard to believe that he has been fighting mammoth health problems and racked with constant, excruciating pain. One of the most intriguing things when you listen to him talk is the deep philosophy behind everything he does. One of the coolest things is that Hrithik is just a regular man who is deeply dedicated to his family and his fans.
Read on to see how Krrish opened up about his health, his career, his peace of mind, his family and the upcoming movie Krrish 3.
Emcee : (After the screening of the Krrish 3 trailer and a huge round of applause) That was breathtaking. I was looking at the promo and then I was looking at Hrithik Roshan and I couldn't believe my eyes that okay he is the real man sitting out here. Oh my god! There were so many effects, special effects, techniques and super powers in the promo. Can you tell us more about the film? What are you expecting from the Gujarati audience?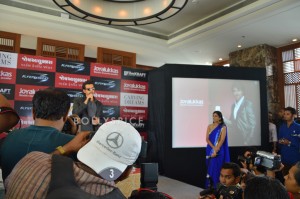 Hello everyone! Can you hear me? (YES!) Well, I am so happy to be here, thank you to all of you for this warm welcome, thank you for being here. Thank you to Mr. Alukkas for getting me here, back to Ahmedabad where I was always receive so much love, so much admiration and I am here to try and give that back as much as I can. But first of all, I have had so much Gujarati food today that it is now difficult for me to sit on this low seat. So I will stand up. So I want tell you that Krrish 3 is a really special film. It's a dream. It was a dream. In the beginning, it looked as if it was an impossible dream. But today, the movie is ready and I think we have managed to do our best in this film. During this movie, I have also found so many ways of finding the hero within myself. After going through a lot, I have realized that we all have a superhero inside of us. I am nothing. I am just like you, you all can find that courage, that power to go on with life no matter what and this is the film that carries that message. We are Indians, we are Hindustanis, we are very emotional and musical people. So this film is more about that I think, more about the emotions, the relationships. It is a story about a father. It is a story about a son. It is a love story, it is full of our culture, our feelings that we so value in our lives. And I hope that you all like the film. I am very, very proud of being associated with Krrish 3. I am very proud now that I am associated with Mr. Alukkas who reminds me of my father in so many ways. He is a very humble man. After I got to know him, when I met him for the first time, I found him so soft spoken and so humble. After that I realized that my god, he is such a dynamic business man, he is a visionary, just like my father. I actually drew inspiration from him. Joyalukkas, the kind of growth it has had in the past many, many years is unprecedented. It can go down in books and we all can learn from it and how to find the true potential inside all of us. Mr. Alukkas is an example of that power, of that courage. And I am just so happy that I am here with him and with all of you. Thank you Ahmedabad for always loving me so much. Pata nahi kyun (I don't know why), I always feel an affection towards my audience here, my fans here. Because no matter how my movie is, my movies always do well over here. So I am without a doubt, completely satisfied and happy and sure that you will give Krrish 3 also the same amount of love aur yeh film yahan par toh hit honi hi hai (and the film will be a hit here). Because I can see the love on your faces, I can feel the love in my heart, I go back from Ahmedabad with so much love with my heart that I wish sometimes that I can stay back. So once again, thank you.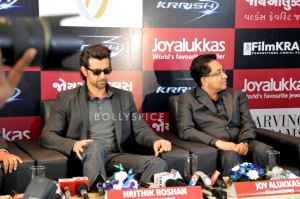 What does this mean? (Referring to the picture that Hrithik posted from his hospital bed – indicating that he is alright)
HR: I posted that during my stay in hospital because I recently underwent a brain surgery. At that time I decided, I asked myself that would Krrish do? How would Krrish decide to experience this page of his life. So I took three seconds – one, two, three – that I will have no fear and I will go through it with power, courage and I will give that strength to my family. After that I felt absolutely no fear. And that is why I wanted to share that with the world. I wanted to tell the people that it actually takes three seconds. So I turned that into a sign and shared that with all my fans.
And you proved it that this is Krrish 3!
HR: And it is Krrish 3, correct!
You use different promotional strategies for promotions. How important are these promotional strategies for the success of the film? Specially, for a movie like Krrish.
HR : I think whatever the promotions are, are only to create awareness. After that awareness is created, the movie will work if it is good. If it is not good, it will not work. Cinema is about contribution. We can only do our best to create something from within us. We have created Krrish 3 from our heart and now are contributing it to the world. Now if you like the movie, it will run and if not, then the movie will not run. We have left it to god. But yes, promotions are important because you have to make the people aware. People need to know that my movie is coming on this day, this date, please come and watch the movie. And then tell me whether you liked my movie or not.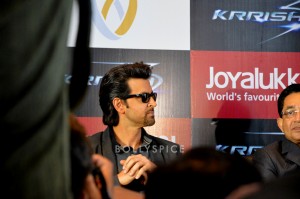 Can you remove your shades please?
HR : *removes them* That was the easiest question I have been asked.
We know that you are dashing and handsome. But why do you consider yourself so special that you never take any personal pictures with anyone?
HR : Who said that to you?
Everyone says so!
HR : Ah haan! Now I get it! This is your plan to get a picture with me! But I promise to take as many pictures as I can. I will!
Is it easier to work with Rakesh Roshan since he is your father or is it difficult?
HR : If you knew my father, you wouldn't have had asked me this question. Because he is the hardest task master. He is the strictest director I have worked with. And when I am with him on the sets, I have to remind myself that I am not an assistant, I am an actor. Sometimes I forget that I am an actor.
One more request sir! My father is your hugest fan since Guzaarish. Can you give me an autograph for him? He is excited about the fact that I am meeting you today. He will be heartbroken if I don't take back that autograph.
HR : How sweet is that! How sweet! Come, I will give you the autograph. Give my love to your father.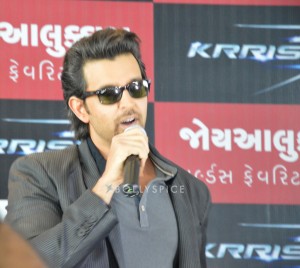 You have seen many ups and downs in your life. If you had to sum up your life in one line, what would that be?
HR : My life in a line – it's a difficult question but I will try. I think your life is whatever you make of it. Your life is your own responsibility. If you take hundred percent responsibility of your environment then the steering of your life comes into your hands and you can steer whichever way you want to go. Nothing in life is impossible. You always have to look up, stand tall, stand powerful and go through every experience. Because no experience is bad. Every experience teaches you something good. If you learn from it, you will continue to evolve, you will become a better and stronger person. Now when I look back, I know that every single experience has made me what I am right now. Whether that experience was good or not, it has been there for a reason and that is why I am here right now.
How many times do your workout?
HR : I am not working out these days, thanks to my brain surgery. It's been three months now and I have not worked out. And the six pack that I had once upon a time has now become a one pack. My stomach had become huge. And after today's Gujarati food, I think I will have to workout double hard when I go back to Mumbai.
Hrithik, I have seen your interviews before and I have heard that you have changed all your weakness into strengths to become the superhero that you are for our country. Can you just tell us what are those things which have become the strengths because we have only seen the strengths!
HR : That is a fantastic compliment! Thank you so much! But it's true, we all have weaknesses. Every superhero also has a weakness. For every Spiderman, there is a Peter Parker. For every Superman, there is a Clarke Kent. For all of us also, there is one side of us that has all the weaknesses. We have that one side which is very powerful and we must always listen to that voice in our head that gives us that power to keep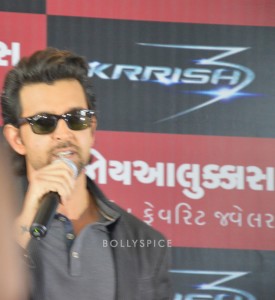 going. I don't want to stand here and glorify my journey in terms of my weaknesses. Because we all are the same. Sometimes we want to scream and shout from the rooftops to tell the world about what I am going through. You want to tell people, look at me, I have so much pain, I am suffering so much. But everyone is going through the same thing. And everybody will go through it. The thing to remember is that we all have that power in us to tide through any bad situation or environment in our lives. And I am an example of that. I believe that there is a superhero within us. I wear the band of Krrish to remind me that no matter what happens in my life, I will go through it standing strong and I will always move forward. After eating gujrati food it becomes a little difficult, but still, I am going to move forward.
Thank you so much Hrithik! On behalf of all Ahmedabad, we all wish you a happy, healthy and prosperous life ahead and Happy Diwali!
HR : Thank you so much for all the love and Happy Diwali! With that parting note, Hrithik left to mesmerize, inspire and spread some more love.
Thanks to Hrithikrules.com too!