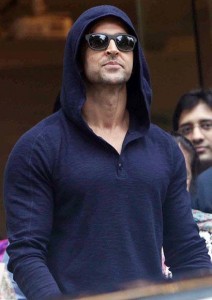 Hrithik Roshan recently went through brain surgery to remove a chronic subdural haematoma, which is a blood clot between the brain and the skull. The actor was injured doing stunts on set in Phunket for his film Bang Bang, which also stars Katrina Kaif. The actor started getting severe headaches and after an MRI revealed the blood clot, the actor had surgery last Sunday, which was a complete success.
Hrithik left the hospital on Thursady saying he was doing "Fantastic!" and now he must rest and recover for 4 weeks.
Talking about being scared about undergoing brain surgery he said, "First of all, all fear is 99% assumption-based. In fact, almost ALL worries in life would disappear if we just stop assuming things. I just don't allow my mind to assume a different truth behind the obvious. I did not allow myself to assume something will go wrong. There was no evidence to support that assumption. I was with the best doctors and was armed with objective information."
He revealed, "I got doctors to sing songs while a hole was being drilled into my skull. Why worry until something DOES go wrong!"
About dealing with the pain he added, "Once the doctors said local anaesthesia is safer except for the pain, I quickly made my peace with the pain, took the better option and looked forward to a mind-blowing (literally) experience. Haha! How could I have any fear then?"
The actor will be back in action after a month of rest but he is taking that in stride too, "I can't afford to take sick leave. This, of course, throws a lot of lives — lives of people very dear to me — completely out of track. But I cannot worry, that solves nothing. I have to focus on what can be. All I have to do is take a decision…I decide that I have the power to turn a curse into a boon, as I have done in the past. I will make up for this in the most wonderful way imaginable for all the people concerned."
And he promises everyone he will be more careful but will also being going back to doing stunts, "I will, of course, be most careful. (Laughs) Do not worry. That I promise. But I will always be a slave (again a very careful one) to my vision. If I can dream it, I will make it happen (in the most careful way again). Is everyone happy? (Laughs)"
In Hrithik's words from his Facebook Page: A poem that we just HAD to share


Eyes on the stars…
Feet on the ground…
I am….. Homebound…
If the clot recurs…a bigger price I pay…
So I'm bound to the bed…4 weeks they say…
(A test of my will in every way)
Duties, tasks, promises unsettled and undone…
The confines of this bed even denies me the Sun…
Betrayed trapped imprisoned restrained…
(i smile) these little blows many a times I have sustained…
In doing so, a trick I learnt…yes a trick I say…
Cause life's just a game dammit, u gotta see it that way!
So a curse or a boon?
Opportunity or doom?
The trick of the game…is invent the freakin Rule!!
Who decides? ..Who ordains?
We give up that Power..!
is that Sane?
"Luck","Fate","Destiny","Why me?"..
With all of these I disagree.
Its a helpless state…n that's not me.
Cause What I think… i will eventually Be.
I turn to my bed…now my magical cocoon…
Armed with a vision
N my Attitude…
A miraculous tool!
So 'I' decide…and 'I' ordain…
This is my enchanted vehicle for infinite growth n gain…!
Read, learn, love, laugh, discover even invent!
The things I can do…this is going to be a supreme event!
So when its time…I'll fly a higher kind…
With wider wings…n an enlightened mind…
Cause the promise I made yesterday…
Is a promise I cannot betray…
That a Champion i must be… come ….what may..!
Now I look up and Rise…
With stars in my eyes…
My feet on the ground…
I am……. Homebound.
In the horizon I see a glimmer…(Flashbulbs)
In the distance I hear a sound…(Action)
I return a wink to my mother…
My sisters laughter resounds…
They are soldiers who'v battled forever…
This is their turf…their ground.
A father stands triumphant…
His pride silent yet loud…
A wife walks along steadfast…
The meaning of her love avowed…
Eyes on the Stars.
Feet on the ground.
Firmly… … on the ground…
I am ……………..Homebound.
Here's to seeing the actor back in action, carefully, soon!