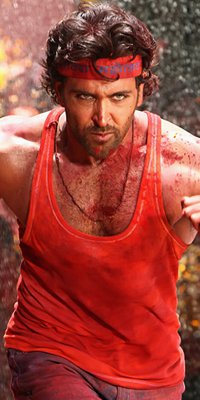 On the eve of Gokulashtami, when people all over India participated and celebrated the enigmatic festival, Hrithik's first look from his upcoming Dharma Productions' remake Agneepath, created quite a stir amongst fans online. The picture which was posted in the morning on the official Dharma Productions fan page, shows Hrithik in a red vest, as a part of the dahi handi ritual. Ladies all over the world have been swooning over his Greek God looks, and he proves that he definitely is the hottest Govinda in town.
Hrithik a.k.a Vijay Dinanath Chauhan's pose is striking as the actor looks muscular and stunning and looks like he has indeed put in extra hours at the gym. Fans can't stop raving about the look, and have been craving to see a few more looks of the film.
Agneepath is releasing on the 13th of January 2012, and audiences are dying to watch how well Hrithik Roshan will portray the iconic character of Vijay Dinanath Chauhan, previously played by Amitabh Bachchan in the original movie.