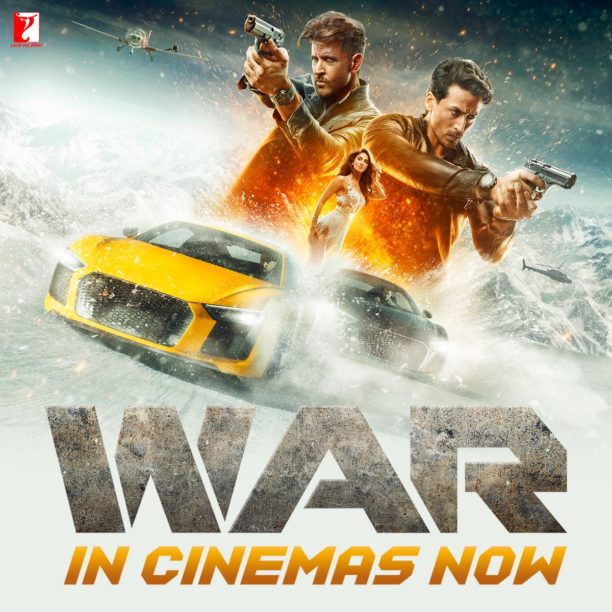 The biggest action entertainer of India, YRF's War, which released on October 2nd, sees Hrithik Roshan and Tiger Shroff waging a ferocious war against each other. The high-octane film, directed by Siddharth Anand, also stars Vaani Kapoor has mesmerised audiences of all ages across India.
The film has received unanimous love and appreciation from critics and audiences alike for delivering a never seen before action spectacle and a superb story with twists and turns that keeps audiences at the edge of their seats till the end.
In fact, on the first day, War, smashed box office records… 8 in fact including Biggest Opening in the history of Hindi cinema, Biggest Opening for Hrithik, Biggest Opening for Tiger, Biggest opening for director Siddharth Anand, Biggest all-time holiday Opening for a Hindi film, Biggest opening for a film releasing on Gandhi Jayanti, YRF's Biggest All Time Opener, Biggest opening for an original film which is not a sequel or a spin-off.
The lead actors of the film, Hrithik and Tiger thanked the audiences and opened up about their incredible happiness at the success of War!
Hrithik says, "It is an incredible response to our hard work and I'm truly grateful to the audiences for loving our film. When we decided to make War, we were clear that we were attempting to do something that has never been done in Indian cinema and we went all out to make it happen. So, it's hugely validating to see the fantastic response of the people enjoying our action entertainer in the theatres. As an actor, you live and thrive for such moments and I'm truly blessed that our film is getting such overwhelming love. I congratulate my partner in crime Tiger, my director Sid, YRF for its belief and the incredible effort to make this film spectacular, Vaani and everyone associated with this film at this incredible moment. The entire team worked really, really hard on War and it's amazing to see this kind of euphoria around our movie."
Tiger also is ecstatic and feels blessed, "I'm touched by the fantastic response that our film has been getting from audiences across India. I have no words to describe what I'm feeling right now except that I feel blessed to be getting this love and appreciation from people. I have always wanted my films to be out-and-out entertainers, films that make people happy in theatres and I'm glad that WAR has become that film. I feel blessed to have this opportunity to work side by side with Hrithik who has been my hero and idol. Just this opportunity is a victory in itself for me. I would like to thank and congratulate Aditya Chopra, Hrithik sir, my director Sid, YRF for going all guns blazing to make this a spectacle, Vaani and every single person associated with this film. This has truly been an incredible team effort."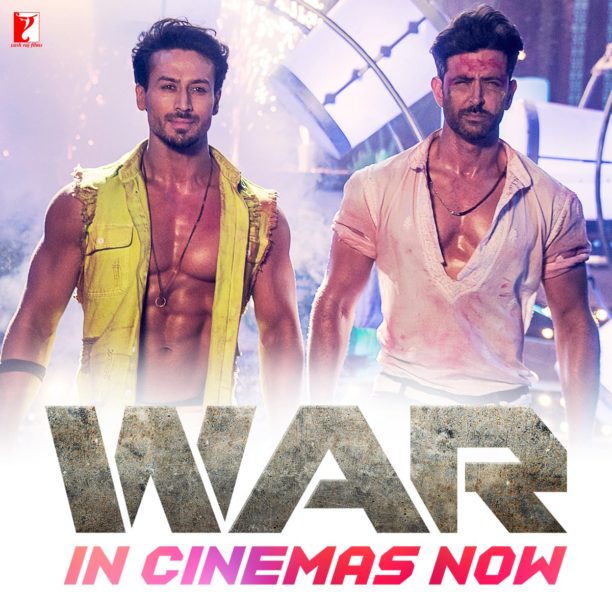 Director Siddharth Anand also thanked audiences adding that he is delighted the film is being hailed as genre-defining in Indian cinema. He says, "It is truly overwhelming and gratifying to get this kind of love from audiences for our hard work in making War a truly big screen spectacle. Having two of the biggest action superstars of Indian cinema, we had the immense responsibility to give audiences a never seen before visual experience and I feel hugely validated that people across the country have loved our action entertainer that has pushed the envelop of action genre in India."
He also gives a shout out to the actors and the War team! "I congratulate Hrithik and Tiger on this huge success and thank them for their faith in the vision. I also share this moment with Vaani, all the actors and the entire team that has worked tirelessly on this film to make War a huge winner at the box office."
The film is still going strong at the box office and fans can not get enough of this epic film!
Just ICYM the trailer!