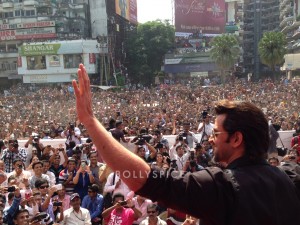 Hrithik Roshan, India's first Superhero Krrish recently made an appearance in Baroda, the third largest and most populated city in the Indian State of Gujarat.
The atmosphere was awe-inspiring when their favourite movie star graced his fans amidst pomp and celebration. Fans flocked in gargantuan numbers to catch a glimpse of India's answer to Thor and Superman!
Hrithik visited his adoring fans for the promotion of Krrish 3, whose release coincides with the 'Festival of Light', Diwali, in India.
High on superheroes, special effects and thrilling action, the most anticipated film of 2013, Krrish 3, the trailer itself has set new benchmarks, crossing 17 million views on YouTube.
Audiences are in for a triple treat with Krrish 3 as India's most critically acclaimed and fan-adorned, multi-faceted artist, Hrithik Roshan, will be seen playing a triple role in the film, that of Rohit (Krrish's father), Krishna (alter ego of Krrish) and Krrish (the superhero).
Krrish 3 first trailer begins with the possibility of a milestone discovery by Krrish's father Rohit (Hrithik Roshan) followed by the introduction of a malevolent genius Kaal (Vivek Oberoi).Kaal is aided by a vamp (Kangana Ranaut) whose persona reminds one of a mixture of Catwoman and Black Widow. Audiences also catch a glimpse of Hrithik's leading lady in the film is Priyanka Chopra, who will be seen in two unique avatars.
Hrithik Roshan says, "Krrish 3 involves me in three various roles definitely making it a challenging film."
Vivek Oberoi says, "Setting a benchmark, Krrish 3 now has a bigger challenge."
Reprising her role, Priyanka Chopra commented saying, "Krrish 3 has an audience for everyone, whether children, grandparents or families. Krrish 3 is now bigger and better."