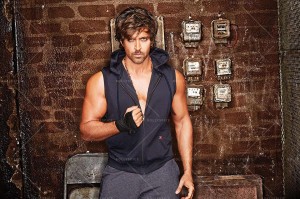 Hrithik Roshan who recently turned 40, is every bit the superhero that we get to witness on screen. The actor was in his usual positive and enthusiastic mood at Asia's first Google + Shoppable Hangout in association with Myntra.com for his new clothing brand – HRX. With the help of this first of it's kind initiative, fans of Hrithik were able to chat with the star, check out the clothes and shop live. He talked about the inspiration behind the brand, the philosophy behind the 'X' in HRX and the big plans that he has for the brand.
When asked about HRX, this is what Hrithik had to say, "HRX is the most exciting thing I have done in my life. We have brainstorming about this for close to three years now. HRX is not me, it is a symbol that points to a certain set of philosophies, to battle the challenges which I have faced from time and time again. Everyone single person, no matter who he is, wants a change in his life. Whether it is the way you look, the fitness, the clothes, your mind, your emotional journey, we all want to change something about ourselves. We want to be the best versions of ourselves. We all have the resources to do it, but nobody really knows how to do it, no one has to access to do it. HRX is about empowering yourself first, to know that nothing is impossible. Two people faced with the same challenges, one of them overcomes, the other succumbs – what differentiates the two of them? That is where the 'X' comes in. The 'X' factor. I have great plans and dreams, this is just a starting point."
And what is the philosophy behind the 'X' in Brand HRX?
"When I say that whatever is happening around me, is a result of my doing then you take the steering back in your hands. I can steer it any which way possible from this point on. That's the 'X'. You take the responsibility in your hands instead of blaming people. When you attribute blame to others, you give away your power. 'X' is about taking back that power. I am responsible for what is happening in my life," he said.
Hrithik is often spotted wearing the signature hoodies from HRX and he told the fans why he loves them so much.
"You know when you want to sleep at night, you know the comfort of that? These hoodies are like that, very cozy!" grinned Hrithik.
When asked whether he was interested in starting a line for all his female fans, the honey eyed actor said, "Women rule the world! The women's line will be designed just by me!"
Hrithik also excitedly revealed that he has bigger plans for his brand HRX. He said that over the course of this year, people will get to see bigger surprises from him.
Bollyspice wishes Hrithik a successful, healthy and peaceful year ahead!