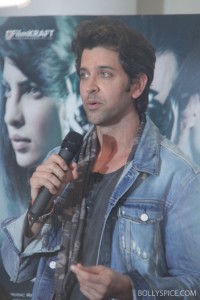 When we spoke to Hrithik on his recent trip to London to promote Krrish 3, we just had to ask him who his favourite superhero was. It came as no surprise that it was the Man of Steel – Superman! Superman is the one character whom Bollywood has attempted to present on screenin the past. There was even a full length film called Superman in 1987, which featured Puneet Issar as Superman and Dharmendra as his father. Govinda even slipped on the Superman cape and pants for Dariya Dil in 1988. Therefore Superman is no stranger to Bollywood.
Hrithik shared with everyone "I have truly been a fan of the superhero genre. My first movie in fact was Superman and my second was E.T, so I think somehow I have manifested both of those films in my life. The impact that they have had on my life, first and foremost is the fact that it did something to my imagination, it really filled me up. It instilled this vision in my head since I was a kid to dream the impossible, because that's what superhero's are about."
Want to know more? Watch this space for when we bring you our full interview and video with Hrithik and Priyanka, where Priyanka also reveals her favourite superhero.