Hum Do Hamare Do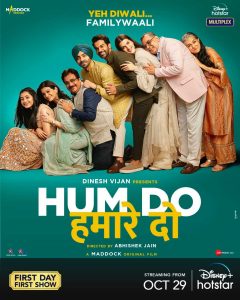 (Disney-Hotstar)
Starring Ratna Pathak Shah, Paresh Rawail, Rajkummar Rao, Kriti Sanon
Not even the wonderful Ratna Pathak Shah and Paresh Rawal could rescue this dreary rom-com from sinking so low into the abyss that it's hard to find one single moment of joy from the mirthless mess.
On the premise level it sounds promising. Rajkummar Rao is Dhruv ,an orphan craving for a, awww, family. Ever-bubbly Kriti Sanon , the new-age Preity Zinta, craves for a Bunty with a large heart and a larger family. So what does Dhruv do? He hires two long-in-love estranged people Purushottam(Rawal) and Deepti(Pathak) to play his parents.
There is an unintentional tribute to Hrishikesh Mukherjee's Golmaal here. In that film Amol Palekar(who was to middle-of-the-road cinema in the 1970s what Rajkummar Rao is now to the romcom industry) had hired Ratna Pathak Shah's mother the great Dina Pathak to play his mom.
That, ladies and gentleman , is where all comparisons with the charming rom-comers of the 1970s ends. Hum Do Hamare Do is a horribly askew homage to Hrishikesh Mukherjee and Basu Chatterjee(with a spot of Shakti Samanta thrown in, more about that later).The actors do their jobs well, and not just the four principal prerformers. Even Manu Rishi Chadha as Sanon's father has his amusing moments.
But the actors and the characters are woefully let down by the dialogues. No matter how intellectually challenged you may be, you wouldn't be caught saying the things this pictureshow makes its characters say.
Sample this: At a wedding the demented wedding planner(Saanand Verma) says, "Mere ghar mein koi parag nahin hai issil liye maine paan se hi mehmaanon ka sawagt kiya." Don't even try to make sense of what these people say to one another. There is a whole big joke between Paresh Rawal and Manu Rishi Chadha about a copper toothpick.And at one point Rajkummar Rao who should have known better, actually mouths these three words, "Whiskey? Kisski? Risky!"
Towards the end when our feisty heroine Anya(whom Paresh insists on calling Ananya all through, ha ha) is all set to marry the wrong man, Wrong Man tells her he plans to have no children,put his parents in an old folks' home, and wants to migrate to Canada .
Making him a serial killer would have been an easier cop-out.Subtlety is not one of the strong points of the plot. When a big revelation is made at a wedding, a suddenly switched-on microphone comes in handy.Eavesdropping is passé, I guess.
Why oh why have all the talented actors in this bland broth of soggy jokes and imbecilic pranks agreed to be part of this monstrous mirthless misfire? Is it a kind of Covid compromise ? A hastily assembled rom-com meant to give the cast and crew work during the pandemic? How could a film featuring Paresh Rawal and Ratna Pathak Shah playing a fake couple be so fake?
Not even a passing glimpse of my all-time favourite Hindi film Shakti Samanta's Amar Prem made me feel any kinder towards Hum Do Hamare Do.