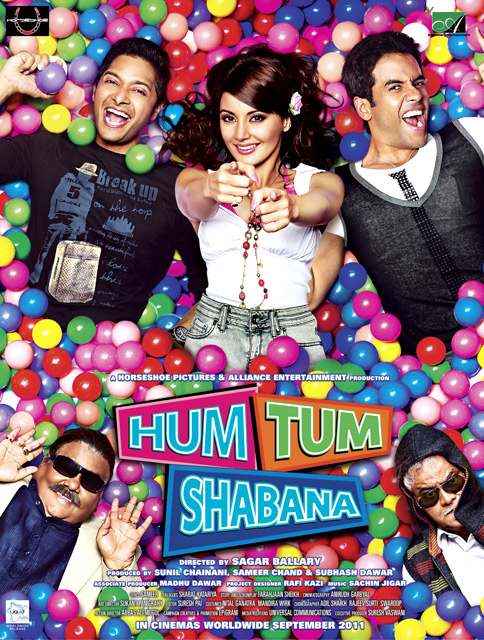 Sachin-Jigar of F.A.L.T.U and Tere Sang fame are back on the front lines of Bollywood music with Hum Tum Shabana, a comedy starring Shreyas Tadpade (Golmaal Returns), Tushaar Kapoor (the Golmaal movies) and Minisha Lamba (Yahan and Bachna Ae Haseeno).
The album is made up of seven tracks, inclusive of two remixes. It features the lyrical styling's of Sameer and the vocal talents of Anoushka Manchanda ('Mit Jaaye Gham' – Dum Maaro Dum), Mika Singh ('Pyaar Do' – Thank You), Palaash Sen (of Euphoria), Tochi Raina ('Gal Mithi Mithi Bol' – Aisha), Suzanne D'Mello ('Jee Karda' – Singh is King), Jigar Sariya ('Rab Milaya' – Teree Sang) along with Raghav who is making his foray into Bollywood music.
Hum Tum Shabana costars Sharad Saxena (BodyGuard) and Statish Kaushik (Road, Movie) and has been directed by Sagar Ballary (Bheja Fry). It hits cinemas on 23 September 2011.
The album starts off with a bang with Music Bandh Na Karo. It is a decent attempt by Sachin-Jigar to re-create the youth anthem 'Char Baj Gaye' from F.A.L.T.U, but it does not get your blood pumping quite like 'Char Baj Gaye'. Regardless, it is still a fun filled club/dance number sung with energetic appeal by Anoushka, Palaash and Abhishek Nailwal. Therefore, is gaane ko definitely bandh na karo. Why this track needed a remix is not entirely clear since it is already fast-paced and loud from the get go. Regardless, there is a remixed version of it by Kiran Kamath which is rather unspectacular, in that it does not achieve anything that the un-remixed version did not already achieve.
Next is the Hey Na Na Na Shabana by Raghav, a trendy contemporary track that is contagiously hummable. While Raghav has sung several Hindi songs in his musical career this is undoubtedly his first number for a Bollywood film and I really hope he continues to collaborate with Bollywood composers after this. Needless to say, Sachin-Jigar could not have found a better vocalist for this song. While the lyrics would not be wining a nobel anytime soon, they are still cute and the music is easy on the ears making this song an instant favourite. In contrast, the track's remix, by Akhil Talreja is quite unremarkable. Further, it drowns out Raghav's vocals which is rather disconcerting.
Thank You Mr DJ is up next, a relatively uneventful sung by Mika and Suzy Q. It is more of brawny chant/drawl suited to a crowd of spectators at a sporting event than a song. All one can hope it that it might be more appealing in the context of the film's narration.
Anoushka Manchanda then enters the picture with the mind blowing Piya Kesariyo. The track's pseudo-classical lyrics impressively vocalised by Anoushka against the backdrop of a clever fusion of head banging rock and light-Indian classical is what makes it outstanding. It is vulnerable and powerful, loud and soft, all at once. In short, it is 'Maula Mila De' and 'Morey Siya' (Teree Sang) on adrenalin. Hats off to Sachin-Jigar for such a brilliant composition!
The album closes with Tochi Raina's Kaari Kaari, a pumped up Punjabi dance number written by Mayur Puri. Sachin-Jigar pull out all the stops with this track and with the recent popularity of songs like 'Gal Mithi Mithi Bol' (Aisha) and 'Sadi Gali'(Tanu Weds Manu) 'Kaari Kaari' will definitely win hearts.
In summary, Hum Tum Shabana is quite a decent album and another feather on hats of Sachin and Jigar. 'Piya Kesariyo' and 'Hey Na Na Shabana' are the definite winners while the partygoers will eat up 'Music Bandh Na Karo' and 'Kaari Kaari' without question. 'Thank You Mr DJ' on the other hand might not find a lot of takes. In any event, Hum Tum Shabana is a sound effort from Sachin-Jigar so give it a go!