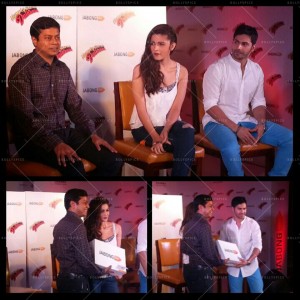 Jabong.com, India's leading online fashion destination partners with the new upbeat movie by Karan Johar under Dharma Production – Humpty Sharma Ki Dulhania. A part of the tie-up, Jabong.com will unveil an exclusive collection defining the new age fashion exuding élan, a range inspired by the movie and the looks of the lead star cast – Bollywood's new heartthrobs – Varun Dhawan playing Humpty Sharma and Alia Bhatt playing Kavya Pratap, at Crown Plaza, Okhla in Delhi.
The star studded event was nothing less than a reunion for the cast as the lead stars Varun Dhawan and Alia Bhatt, waltzed into the stage with a fashion flash mob cavorting to the recent billboard hit from the film, 'Saturday-Saturday'. Also, gracing the event was Jabong's spokesperson, Praveen Sinha, Founder and Managing Director, who unveiled the new collection along with Humpty and his Dulhania!
Tanaaz Bhatia, Managing Director, Bottomline Media Pvt. Ltd adds, "Our association with Jabong.com goes far back and it has been a wonderful experience to work with them. We believe the Humpty Sharma collection will create a new trend amongst the youth especially after the movie is proving to be a hit already! We look forward to create many such associations with Jabong.com and our upcoming films."
Speaking on the occasion, Mr. Praveen Sinha, Founder and Managing Director, Jabong.com said, "We are highly elated to launch this stylish and chic 'Humpty Sharma Ki Dulhania' collection on Jabong. We are only growing strength to strength in the e-commerce sector, and this collaboration exemplifies the stature we hold in the market. When such magnum opus brand names show an inclination in getting associated with us, it exudes nothing, but power of E commerce and Jabong. The fashion industry draws heavily from Bollywood, we at Jabong cater such eclectic needs of people. From international apparel honchos, to the classic Bollywood fashion parade, Jabong.com now has everything under one roof".
Siddharth Kadam, Marketing Head, Dharma Productions added, "Movies and shopping are the two experiences people of India not only enjoy but also celebrate. Witnessing the boom in online retail, such associations are going to become more popular with a Bollywood style collection inspired by the movies. There is a huge market of young, fashionable buyers wanting to dress like film stars. We are happy to partner with a Jabong.com for our film "Humpty Sharma ki Dhulhania"
The exuberant and vibrant look, of the film, that is evident through its movie trailers is in tandem with the collection, curated exclusively for www.jabong.com. The extravagant collection encapsulates Rakesh 'Humpty' Sharma's (Varun Dhawan) quirk and Kavya Pratap Singh's (Alia Bhatt) spunky look with an absolute flawlessness. The clothes worn by the leading pair are doing all the talking about the film's fashion quotient! Bold bustier, leather gilet, chunky metallic embellishments, bright colored bandhini dupattas – this eclectic range of movie merchandise set afloat exclusively by Jabong is creating a hullabaloo in the virtual fashion world. A T-Shirt with a hint of debonair, and shirts with the perfect chocolate boy charm- a straight jacket Varun Dhawan look from the movie makes the collection stand apart and accentuates Jabong's exclusory swank in the fashion industry. With various looks catering to very kind of occasion – be it for a date or a casual day out, customers can now get their own Bollywood makeover with the collection inspired by the looks of the movie which is available exclusively on Jabong.com.